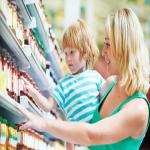 Top Traits of Products to Emphasize
When customers walk the aisles of stores, they have to make snap decisions. Different brands of similar items are there on the shelves, and it's time to pick one or another. What do they look for on the labels? If you have the answer to this question, you can target consumers effectively and maximize the chances that your brand will be the one selected.
Considering that healthy food content is one of the major traits on which products are assessed, March - National Nutrition Month - is a great time to determine whether your brand's custom food labels are promoting the kinds of nutritious properties customers really care about. It may be time to refresh your labeling strategy, and if you act quickly, you can tie the change into National Nutrition Month.
Consumers Love Transparency
Shoppers today don't want to feel that your brand is hiding something from them. The more information you can include on your grocery product labels, the better. A 2016 Packaging Digest report explained that consumers today are interested in ingredient listings. The source noted that 70 percent of respondents to a Mintel study wanted to see food packaging labels.
Packaging Digest explained that this intense desire to know what's in foods means you should prioritize your ingredient lists and panels. If people have to spend a long time looking for an ingredient list on your food labels - but not your competitors' versions - that could present a barrier between your products and shoppers.
A Wisconsin State Farmer report from the 2017 Dairy Forum contained more revelations on preferences in the consumer grocery market. PircewaterhouseCoopers' Brian Boyle told the industry gathering that consumers today don't just want to see listings of the ingredients in an item, they want assurances that the product does not contain elements they deem harmful, such as preservatives, GMOs and processed items. The ingredients shoppers are happy to see include calcium, fiber and protein.
A Timely Label Change
If your brand is in line with current consumer preferences, there's value to be gained from saying so on your items' food product labels. March is a great time to make that change, as you can tie your health-consciousness in with National Nutrition Month as part of a major advertising campaign. While the month is already underway, it's not too late to make a change, provided you work with a fast enough labeling provider. This is where Lightning Labels enters the picture, with all-digital processes and domestic rather than outsourced facilities providing remarkable speed.
With high-quality labels that accentuate the nutritional benefits of your product line, you can reach out to modern shoppers who are interested in knowing what's in their food. This is a combination of good corporate citizenship and effective marketing, as responsible companies are in demand today. It's possible to promote your brand's healthy bona fides online or via social media, but labeling is one of the best ways to get this message in front of your customers. Working with Lightning Labels will help you take this new approach right away.
Request your FREE instant quote today.