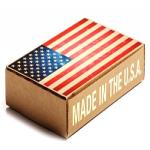 Be Truthful Regarding the Country of Origin When Labeling a Product 
When businesses are labeling a product, using the words "Made in the U.S.A." often has a positive effect on purchasers. According to the Consumer Reports National Research Center, 78 percent of U.S. consumers would rather purchase a product made domestically than one made abroad. More than 60 percent reported they would pay about 10 percent more for products made in the U.S. A smaller number indicated they would pay 20 percent more.
The Federal Trade Commission has strict guidelines for what claims promotional labels can make regarding their origins.
Laws for Creating Custom Product Labels Can Be Difficult to Understand Custom product labels cannot mislead consumers about where they were produced. In an interview with Consumer Reports, Laura Koss, an FTC attorney, said the legality of labels is often determined by how confusing they are to shoppers, but each case is determined individually. When parts of a product are made outside of the U.S., but assembled in the country, the label needs to indicate it.
According to Consumerist, a consumer advocacy site, E.K. Ekcessories, an outdoor accessory brand, was cited by the FTC for using deceptive marketing on its products, which bore labels saying, "Truly Made in the USA." However, the commission found that in several circumstances, the companies' products were actually made outside of the country.