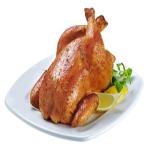 Poultry Firm Uses Custom Bumper Stickers to Raise Awareness
Some custom bumper stickers about poultry might be a laughing matter - "Cluck if You Like Chicken!" - but that's not the case for Delmarva Poultry Industry.
The Delaware-based poultry trade association recently announced it would distribute some 10,000 multicolored bumper stickers to association members and the general public at a number of upcoming events, including the Delmarva Chicken Festival and the Delaware State Fair.
Custom Car Bumper Stickers Used to Educate Consumers Officials said the theme of the custom car bumper sticker initiative is "Our Farms, Your Food," a message DPI hopes will resonate with chicken-eaters.
"It's another effort to make the public more aware of the connection between farms and their food sources," Connie Parvis, the director of education and consumer information at DPI, told Delmarva Now. "We find today many people are so far removed from agriculture and don't make the connection of where their food comes from. This is set to remind people food comes from family farmers; it doesn't magically appear in the grocery store."
DPI has previously used custom car bumper stickers in marketing campaigns, but according to the news source, brought back the bumper stickers after consumers called in asking for them.