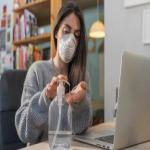 The past few months have changed perspectives around the world as people have struggled to stay healthy and well amid pandemic conditions. One of the ideas that has risen to new prominence is the importance of hand hygiene and cleanliness in fighting infectious disease. While people are being encouraged to wash frequently with soap and running water, there are plenty of times when no sink is nearby. In these cases, alcohol-based hand sanitizer liquids are the primary alternative.
Some companies have been making hand sanitizer for years, and found themselves needing to scale up production in order to meet demand. Others, sometimes including distilleries, have pivoted to hand sanitizer production. These brands often send their supplies directly to health care organizations, public sector agencies or non-profit groups. Wherever your company falls on this timeline, you should ensure your custom hand sanitizer labels will hold up under use and carry attractive text and imagery that fits your overall branding strategy.
What Information Needs to Be on Hand Sanitizer Labels?
The Food and Drug Administration, responding to companies' desire to increase hand sanitizer production during the pandemic, has published and updated temporary regulations for alcohol-based hand sanitizer production and labeling. Normally, companies have to register with the FDA as drug manufacturers to create sanitizer products. Now, the agency has stepped back to allow the temporary manufacturing of ethyl alcohol or isopropyl alcohol products. There are also alternative, non-alcohol options such as hydrogen peroxide, sterile water or glycerin.
The new labeling format the FDA requires for these temporary products includes a front panel describing the product's purpose and volume, as well as a drug facts label listing active ingredients, uses, relevant warning and storage information. The concept of applying an FDA-sanctioned drug facts label fits in with the normal requirements for hand sanitizer, but without the approval process that occurs during non-pandemic conditions.
What Makes a Good Hand Sanitizer Label Design?
If you want to make a permanent place for your company in the personal hygiene products category, potentially expanding to related goods such as disinfecting wipes, there are plenty of custom label design ideas to consider. The Packaging Insider specified that the best hand sanitizer labels make people feel positive emotions when they see the bottles. This is an important consideration in a time defined by caution and worry. If you can create a bright, reassuring design, you may have an easier time connecting with customers.
Top sanitizer brands have tried various different approaches to the general concept of positivity. Some opt for designs that look highly medicinal, while others use cool colors such as green and blue to evoke a peaceful forest. Still, more have chosen ornate looks that fit in with more general bath and body product labels, which could be a good strategy if sanitizer is merely one of the hygiene items you sell. One of the most enduring ways to sell hand sanitizer is to choose clean, clear text art. The Packaging Insider recognized several brands that use radically uncluttered label designs to get their message across.
Why Work with an Experienced Labeling Partner?
Whether you're redesigning an existing product label or hurrying a new emergency sanitizer to market, you need a quick turnaround time on your labels. It also pays to work with a provider that can offer flexible order sizes, so that you aren't stuck with more of your hand sanitizer labels than you need. Furthermore, you should pick a company that lets you work with tough materials for your bottle labels, because hand sanitizer containers will likely be carried around every day or stored in environments such as bathrooms where moisture can wear the packaging down.
Lightning Labels uses all-digital printing to create custom labels that are available quickly in the quantity of your choice. By picking from tough polymers, you can create custom hand sanitizer labels that will hold up under tough, frequent usage while also making your logos and imagery look great. There are few items more important than hand sanitizer right now, so it's vital to get this type of product launch correct.
Request your FREE instant quote today.