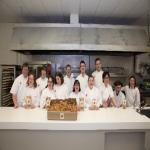 Caring and compassion are the name of the game for Waggies by Maggie & Friends, a non-profit dog treat company that employs people with Intellectual and developmental disabilities (IDD).
Mary Ann Nolan and Leigh Corrigan started the Wilmington, DE-based company in 2007. Their daughters , Elizabeth and Maggie had both turned 21 and faced bleak prospects for employment, so Mary Ann and Leigh decided to start a business to support them and other young adults with IDD. "We had no business background. We started by the seat of our pants," says Mary Ann. "We are a unique business that brings employees and volunteers together for the daily operation of producing more than 3,000 hand-cut, healthy dog treats. Being part of the Waggies team empowers our employees to be successful in their work and serve as active members of the community."
The message has spread far and wide, along with the treats' tasty reputation, which has expanded with good word-of-mouth and "wag of tail."
Notes Mary Ann, "We're in Wilmington stores and have a strong online presence and good following. Repeat customers form the basis of our marketing efforts, along with partner companies in New Jersey and Pennsylvania that developed their own brand name and follow our model. The Wilmington Elks Club has helped make it all possible by letting us use their commercial kitchen to do the baking, which occurs 4 days a week, 48 weeks of the year. And we have a 40-person volunteer group."
Current treats feature all-natural peanut butter, chicken-flavored and sweet potato flavors. Organic peanut butter, chicken broth and sweet potatoes respectively are a main ingredient in the approximately 2-inch long biscuits and ¼-inch square kibble pieces.
"Peanut butter is the bestseller by far. Very few dogs turn up their noses at a Waggies treat," Mary Ann says. She adds that the peanut butter flavor also is a popular people treat.
Despite the pandemic, it's "pretty much business as usual. Our workers are remarkably good about social distancing and wearing masks, and are keeping a positive attitude. Everybody buys into the mission. The kitchen managers don't hurry our bakers, and they don't coddle them. Expectations are high, they make a good product, and work very hard," Mary Ann points out.
Relationship with Lightning Labels, the custom pet product label digital printing specialist
Mary Ann identifies "great turnaround" and "good customer service" as Lightning Labels strengths, and gives account manager John Ament a shout-out for delivering top quality custom pet product labels at an affordable price. "We like to think of ourselves as doing it right, and want to work with companies that feel the same way," she says. Fast label printing turnaround helps Waggies ensure everything is working smoothly to provide quick delivery on online orders. This, in turn, keeps tails wagging.
The experienced baking team of Waggies by Maggie & Friends was unemployed before coming to Waggies. Now they have part-time jobs with a paycheck and each has become skilled at the many levels of the baking process. Contact information: www.waggies.org; or Mary Ann Nolan, [email protected]/302-562-7649.
Request your FREE instant quote today.