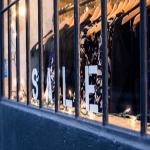 Spread Brand Messages through Vibrant Decals
Your retail business should be as bright and compelling to look at as possible. People walking by should be immediately interested and want to see more. This means mastering signage and creating a great-looking facade. But there's one part of your storefront you may be missing - the windows. With high-quality window decals, you can show off your logo or send out other information. You can also purchase custom decals for automotive use - stick them to the windows of your vehicle fleet or hand them out to customers as an alternative to bumper stickers.
Windows that Tell a Story
What kind of information can be conveyed by a window sticker? These can contain small versions of your business's logo, show off particular merchandise you sell, or even state your membership in local retail groups or organizations. If you want to show off how many different payment methods you accept, window decals can help with that, as well. You can also add new and vibrant spins to old standbys such as signs that display the business's hours. Instead of taping up a cardboard sign, go with a custom decal that looks at home with the rest of your branded signage.
Beyond these evergreen uses, you can also use seasonal or promotion-based stickers. Window decal printing can give you a bright new look that highlights either the time of year or the particular items being discounted. By going with custom window stickers instead of creating a makeshift sign, you gain a level of professionalism in the presentation that audiences will appreciate. Retail shoppers browsing down Main Street will know that your company is competent and reliable, with compelling branding extending from your main signs down to the labels promoting every particular element of the shop and item for sale.
Cars Carry the Message
Instead of limiting your branded appeal to your own storefront, you can print window decals intended for car use. Sell them in your shop, hand them out with orders of a certain amount or distribute them at local events. These have the same impact as bumper stickers, and people may be more willing to use them, as a decal stuck to a window is much more removable than a conventional sticker. This is a great way to get your message out in your geographic region and beyond. Putting your Web address on the stickers can also encourage viewers to check your store out even if they don't physically visit.
Time to Get Underway
There's no need to wait to get any of these types of stickers - you can begin in a hurry with Lightning Labels. Quick turnaround times ensure that your project is fast-tracked. This is important in retail: When you get a good idea to make your storefront more compelling, you want to see the results right away instead of waiting. This is what a new order of window stickers can deliver. What kind of message do you want to send to passersby? Think about it, then make the order, and your stickers will be there soon.
Request your FREE instant quote today.