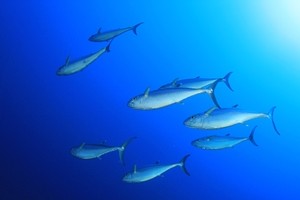 WTO Declares U.S. Tuna Labeling Regulations 'Unfair' to Mexico
For years, Mexico and the United States have been in a trade dispute pertaining to fishing industry trade regulations.
Last week, The Associated Press announced the World Trade Organization ruled against the U.S. in the U.S.'s use of dolphin-safe tuna labels.
The AP explained that the WTO reviewed a dispute settlement first made by Mexico in 2009, which argued that the U.S. trade label regulations were unfair to fishermen, restricted trade and violated international trade agreements.
According to the Dolphin Protection Consumer Information Act, established in 1990, the U.S. is banned from importing tuna that was caught using unsafe practices, including harming or injuring any dolphins in the process. Unless these standards are met, the U.S. prohibits tuna products from being sold with a "dolphin-safe" label.
Tuna Label Regulations Create International Trade Restrictions
Many animal advocates and marine protection organizations are not happy with the WTO ruling.
Following the WTO announcement, llana Solomon, director of the Sierra Club's Responsible Trade Program, released a statement revealing that the "dolphin-safe" label can be attributed to the decrease of nearly all dolphin deaths caused by tuna fishing. The Sierra Club's press release also noted that this is the fourth time in the last four years that the organization has ruled against the U.S. label.
"Americans want to know that the food they purchase and serve to their families does not come at the expense of wildlife," Solomon said. "Today's WTO decision limits environmentally friendly choices for Americans, puts dolphins at risk and opens the door to further trade deal limits on consumer protections and environmental safeguards."
Solomon also added that this decision indicates a major issue with international trade deals that could create potential harm for marine life.
Request your FREE instant quote today.