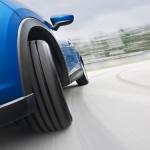 Vehicles Stuck with Personalized Car Stickers Across the Country
To show their presidential candidate support, citizens in Zimbabwe have placed personalized car stickers on commuter omnibuses and private vehicles. According to Newsdze Zimbabwe, residents in numerous areas of the country's capitol city of Harare have pledged their support for President Robert Mugabe with custom stickers.
Zim Eye, a Zimbabwe-based news source, reported this is not the first time Mugabe has sprouted widespread citizen support. A fashion label depicted Mugabe's signature and saw an increase in sales as a result.
Custom Round Stickers Depict Zimbabwe President According to Newsdze Zimbabwe, some of the custom round stickers illustrate Mugabe's likeness with his fist in the air while others have the phrase "Bob is My Man" written across the top. The news source reports commuters have seen the images on the windows, back of side mirrors and rear view mirrors of public transportation vehicles. Many citizens are purchasing the stickers at politically controlled market stalls in the capital city.
Request your FREE instant quote today.