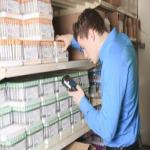 No matter the amount of inventory your business holds at any time, it pays to have an organized system for cataloging and tracking that stock. Inventory labels play a critical role in creating such a tracking system, acting as the connection between your physical items and the digital tools used to catalog the products.
Inventory labels can serve several functions at once. Sequential numbering allows employees to identify items visually, while barcodes and QR codes enable the scanning and logging of products via handheld devices, including everyday smartphones.
Types of Inventory Labels
Inventory labels serve an important role in your supply chain and logistics operations, enabling your employees to track finished goods at every step of their journey, from manufacturing to retail.
Continue reading »