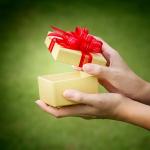 3 Ways to Promote Your Business with Holiday Labels
It's easy to promote your business with holiday labels. The holidays are the busiest part of the year for many retailers, as well as the most important. This season provides countless opportunities to attract new customers. Millions of shoppers hit stores over Thanksgiving weekend, and that's only the beginning. According to the National Retail Federation, more than 140 million people shopped over the holiday weekend, up from 139 million in 2012. However, a lifestyle survey from DDB communications group determined the majority of shoppers prefer to buy gifts on nights and weekends between Thanksgiving and Christmas. Take advantage of the crowds by creating festive sticker and custom food bag labels that really stand out.
Here are a few ideas for custom holiday stickers:
1. Incorporate Stickers into Your Holiday Marketing Plan
Step away from your regular branding routine and design new labels as part of a holiday marketing initiative. If you're in the candy industry, why not create holiday-themed candy bag labels? Sweets are a quick go-to gift for everyone from co-workers to family members. With a holiday label, customers may not even feel the need to wrap the gift, making the whole process even easier for them and ensuring your products are even more desirable. Festive stickers and labels can be placed on all kinds of food and drink products, from baked goods to wine. Customers appreciate products that will make holiday shopping easier, especially if items allow them to avoid wrapping gifts. In addition, products packaged with gift-ready labels can lead consumers to continue thinking of your brand in the future when the holidays are over.
2. Use Custom Holiday Stickers on Gift Bags
Custom holiday stickers can give products the extra touch needed to be gift-ready right off the shelf. Try putting items in gift bags adorned with holiday labels so that customers can still identify your brand. Package products in an attractive way so that they are appealing as last-minute gifts. All shoppers appreciate the convenience, especially during the often stressful holiday season. Gain new customers with innovative gift packaging that attracts attention from a whole new audience.
3. Label Holiday Cards
Labels have a variety of uses. In addition to placing them on products, try putting them on holiday greeting cards or thank-you notes. Expand the reach of your brand even during times when customers are less likely to be buying your products, such as just after the holiday rush. Reach out to past customers with a seasonal message or letter of thanks, and add a holiday sticker with brand information. Use the labels to provide a reminder about your online store or social media platforms. Best of all, when you design your own custom labels for holidays, an attractive card could end up on the fridge or countertop, giving customers a constant reminder of your brand or product.
Request your FREE instant quote today.