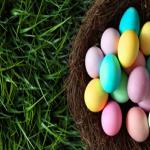 Wish Consumers A 'Hoppy' Easter With Updated Custom Labels And Stickers
Lightning Labels, a custom label and custom sticker printing leader, is reminding manufacturers Easter is right around the corner. When people are shopping for great deals on Easter basket treats, gifts or products for holiday dinners and gatherings, a cheery and unique Easter design may be just the ticket to grab their attention.
A common misconception is that Easter marketing and design should be based on a color palette of pastel colors - soft yellow, greens, pinks and blues - but modern design trends allow for much more creativity when designing holiday product stickers. Consider ditching light green hues for punchy accents of emerald green, the 2013 Pantone Color of the Year, which is sure to stand out from the sea of pastel printed labels and stickers on store shelves and online.
"Manufacturers and marketers are encouraged to be unique and create updated Easter labels for their products, which can have a huge impact on their holiday sales," said AnneMarie Campbell, Lightning Labels Business Development Manager. "Because it's so important for products to stand out among competitors, custom printed labels and stickers can be a cost-effective way to regularly update products to reflect upcoming holidays and seasons, keeping people's attention while making sure they don't break the bank."
How To Save Money On Printed Labels and Stickers This Easter Regardless of the holiday or upcoming event, business owners, manufacturers and individuals can rely on Lightning Labels' digital printing techniques that save money and produce high-quality printed labels and stickers. Not only is digital printing fast - turnaround time is just two to three days after placing the custom label order - manufacturers can have total control over the design process and finished product.
Small-business owners and manufacturers have typically avoided custom products so as to not risk spending their budget on updated labels only to get stuck with an abundance of stickers and labels that they won't need or use. But with advances in digital printing making it easier than ever to order the exact amount needed, even for small runs or label testing, now is a great time to give products the seasonal, festive makeovers that will boost sales and customer loyalty.
3 Reasons to Order Easter Product Stickers Manufacturers who want to get a head start on Easter marketing and create high-quality custom product stickers can follow these three tips:
1. Add A Snappy Sticker To Existing Custom Labels Perhaps product labels were recently revamped or manufacturers are wary how a total Easter makeover will go over with existing customers - not a problem! Consider printing a limited run of Easter-themed stickers that can be affixed to products, then removed later if necessary. These custom labels and stickers may be especially beneficial and attractive to customers if they can double as gift tags, which make basket-stuffing and gift-gifting easy.
2. Turn Holiday Product Stickers Into A Limited-Edition Offer Remind consumers that Easter only comes once a year by offering limited runs of holiday product stickers. Whether these printed labels offer unique designs on standard products or are affixed on items that can only be found around Easter, let people know the clock is ticking for them to make a purchase.
3. Incorporate Easter Printed Labels And Stickers With Current Product Branding Whether a business or manufacturer is focusing on Easter, Passover or spring season themes, it's a chance to connect with consumers and remind them about a brand or product line. Consider taking a current marketing or design scheme, then adding seasonal elements that give it flair, but still make it familiar and recognizable for loyal customers.
Request your FREE instant quote today.