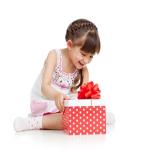 Lighting Labels Offers Holiday Label Design Tips to Make Products Extra Festive
This holiday season, get ahead of the marketing game with holiday label design tips from Lightning Labels. This is the busiest time of the year for many retailers, novelty food makers and other businesses.
On top of getting products on the shelves, you need put together a seasonal promotional scheme that will ensure shoppers notice your brand.
Lightning Labels can help manufacturers large and small make their products command attention this holiday season with custom shape labels.
5 Tips for Making Holiday Labels
1. Create Holiday Labels for Different Markets Customizing holiday labels for different markets can help improve your brand's performance. It's important to keep in mind what kind of person will be buying and receiving your products this holiday season. Are your products aimed at children? If so, make sure your custom labels include family-oriented imagery that parents are likely to be attracted to.
You can also appeal to a wider audience by placing an emphasis on the winter season. Images of animals frolicking in fresh snow can have mass appeal, for example. Naturally, it's best to save the pictures of Santa Claus and elves for younger children. In contrast, pictures of sleigh rides and fireplaces may have a nostalgic draw for older consumers.
2. Custom Holiday Labels can be Humorous or Austere There are many different approaches you can take when making custom holiday labels. Many consumers respond positively to humor, but depending on the type of product you are labeling, a more traditional holiday theme may be better. Use custom shape labels to make funny images that stand out, or make a wreath or gingerbread cookie shape. In an aisle of holiday-themed packages, an interesting label shape is bound to catch the eye.
3. Do Something Creative Distinguish your products from competitors' by doing something innovative with your label. Extended content labels can peel off to reveal a special message or coupon code. You can also include a QR code that will take customers to a special holiday page on your website. Perhaps if you're extra crafty, use a matte finish on labels, and include a handwritten message on top to make the most of personalized holiday gift ideas. Alternatively, you can opt for a peel-off label to make an attractive holiday sticker that customers can keep as a festive memento.
4. Choose Colors that Pop on Your Label The shelves are likely to be full of red and green products this month. Try to differentiate your items by creating labels that feature variations of these colors or totally different ones. You can use blues, purples and whites to emphasize the beautiful winter weather. With the right imagery, any color palette will work. The more unique, the better.
5. Use a Trusted Label Printer Lighting Labels is a cost-effective label printing solution for both small enterprises and large businesses. Our state-of-the-art printing technology gives eye-catching results that can enhance your brand.
Request your FREE instant quote today.