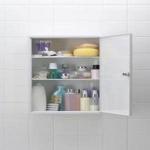 When you're a small-business owner in the cosmetics space, competition can be fierce. There are doubtless dozens of other products designed to suit the same needs as your items, sometimes with powerful marketing muscle behind them. It can be daunting to stand out on shelves among so many alternatives. Your best bet from a visibility perspective is to create compelling cosmetic product label designs that impress potential buyers at first glance.
5 Cosmetic Product Label Tips
The following are five ways to enhance the look of your products through custom cosmetic labels. These are straightforward hints that can quickly and affordably help your goods stand shoulder-to-shoulder with other brands' offerings.
1. Go for Waterproof Materials
It's important to think about where your items will end up. Customers store their skin creams and other cosmetics in the bathroom. This means your bottle labels should resist moisture so they don't wear down after a mere few months. When customers use up a bottle of your product and the label still looks good, they'll get a subtle reminder about which brand to buy.
2. Express Your Company's Identity
Is your brand all about creating a natural, refreshing feeling? Is your style more classy and glamorous? No matter what kind of image you're trying to create, you can enhance that effect by selecting the right material and finish for your cosmetic labels, creating experiences that range from a papery feeling to a slick, shining chrome look.
3. Pick the Right Label Size
Match the dimensions of your custom product labels to the bottles they will adorn. When you order from Lightning Labels, you gain access to dozens of die sizes, meaning you can order labels that are the exact right size to cover your chosen bottles, squeeze tubes, jars or other containers.
4. Embrace Bold Graphics
Given every beauty brand is different, there is no one graphic design life hack to make your cosmetic labels better. Whatever imagery you select, however, make sure the result is bold and highly recognizable. Does that mean stark text on a blank field or a busy photo collage? You could go with either extreme or end up anywhere in between.
5. Don't Break the Bank
You don't have to make huge expenditures to get the custom labels of your dreams. When you deal with Lightning Labels, you can take advantage of low minimum order sizes to ensure you don't buy more labels than you need. Combine that flexibility with quick turnaround times and friendly customer service, and you've found the perfect labeling partner.
Request your FREE instant quote today.