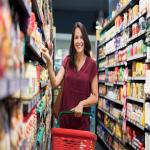 Your products are only as strong as their ability to sell.
You may have the best gluten-free cake mix on the market, or a laptop accessory consumers don't even know they need yet. Whatever you're selling needs to have an interesting label.
Otherwise, it will just sit on the shelf. Custom product labels are what make you stand out from competitors as someone is making a buying decision.
They catch the interest and seal the deal.
But, only when they're made with a great design.
Here are five tips for making custom labels consumers will love.
1. Know Your Consumer
Since a label is all about reaching your consumer, you should start your design with a buyer persona in mind.
This runs deeper than how much disposable income a person has or what their race and gender are.
A buyer persona ties all the little details into the big picture.
It knows if your consumer prefers blue or yellow, bold or italic typefaces and more. Such specifics make everything easier as you're creating custom product labels.
2. Share the Product
Once you've identified who's buying what you're offering, focus on what the product is.
Try to make a label that expresses the quality of your wine or coffee. Or, use it to share some of the ingredients you use to make protein powder.
From food and drinks to fitness equipment or tech gadgets, the product must be easy to understand.
Create your custom labels in a way that anyone can see what it is and how to use it.
3. Get Creative
Speaking of creating, don't be afraid to think outside the box.
This is especially important if you're operating in a niche market.
Beyond your product, think about why a consumer would pick your headphones over the leading brand. Consider what makes your product better than someone else's.
Some fun ideas to do something different include creating a company mascot or adding consumer quotes to your labels.
4. Express Your Values
Another way to make good use of your label is to share the values your team operates on.
You don't have to fill the label with text, but here are few things worth considering:
Your mission statement
The founder's story (inspiration, start-up process, etc.)
A list of the top company values
Each example is easy to incorporate with just a few lines of text. But, they make a big difference.
Beyond expressing the value of an investment in your product, such an approach shows you care. It takes custom product labels and turns them into a strong brand loyalty tactic.
5. Keep It Simple
As you're putting all the pieces of a label design together, make sure it's not too busy.
You want the final result to be a professional, put-together visual.
Yes, it needs to be geared to the customer and have a personal touch.
But, it can't be trying to achieve too many things at once. That's when you get yourself into trouble, and possibly start losing your audience.
Always do a double-check before you send labels into production. Ask your team how they feel, and maybe compare a few different designs before making a decision.
Custom Product Labels Made Easy
Not sure how to turn your product label design into a reality?
Don't worry, we've got the team that can make it happen.
Request your FREE instant quote today.