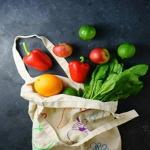 September is Fruits and Veggies: More Matters Month. This makes it an excellent time to try out new labels for your fruit or vegetable brand, whether you sell vegetables straight from the farm, fruit preserves or anything in between.
There are a few different ways to create labels that celebrate the wholesome goodness of fruits and veggies. You can either explicitly mention the special month or create more general designs that work all year long.
The following are five custom food labeling tactics that you can employ to see better results from buyers:
1. Offer a Recipe
Especially if your brand sells vegetables or fruits consumers may not be immediately familiar with, a recipe can help encourage these shoppers to take a chance. Give a clear suggestion about how best to serve the item, and you'll answer a question before it's asked.
2. Tout Nutritional Value
Fruits and veggies are part of a healthy diet - this is the concept behind More Matters Month. Today's consumers are more knowledgeable than ever when it comes to carefully picking what they eat, so go ahead and list a few of the specific nutrients that make your items so good for them.
3. Pump Up Local Pride
If your products are sold close to where they're grown, you can turn that fact into a marketing advantage. Use custom food labels to let people know that they're supporting local farms by buying a particular fruit or vegetable, and they could respond positively.
4. Tie Into an Event
When there's an event designed specifically to celebrate the value of nutritious foods, putting a related message or logo on a product's label can spread the message and get consumers interested.
5. Embrace Great Graphic Design
No matter what time of year it is, or what's going on in the consumer world, a well-designed label with bold imagery and a compelling logo will always stand out.
Contact Lightning Labels to learn more about improving your custom produce labels.
Request your FREE instant quote today.