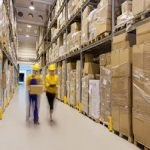 Visibility of products is an important part of running an efficient company today, and it's not just a practice for large organizations. Anyone with inventory on hand can benefit from improving those products' traceability. This process can be helped along by the addition of consecutive numbered labels. These are an easy way to tell identical items apart, and help business owners take inventory or track batches of goods as they move along the supply chain.
Visibility Means Efficiency
"Companies at any link of the supply chain can reduce logistics headaches."
Time-consuming tasks involving the supply chain are great candidates for simplification. This means investing in consecutive number labels can save time and, by extension, money. Taking inventory becomes easier when pallets of goods bear their unique identification labels. In the case of a recall, number labels make it simple to determine where the affected goods have ended up. Companies at any link of the supply chain, from materials production to retail, can reduce logistics headaches with these labels.
Instead of just using number labels internally, businesses can also use them as a way to denote that a product is part of a special batch, or has been produced in limited quantities. Brands can get this message across by combining consecutive number labels with high-quality visually stimulating product labels from Lightning Labels.
A Top Labeling Partner
As with all products from Lightning Labels, consecutive number labels are available quickly, with an all-digital printing process allowing them to ship out in a hurry. Furthermore, this method of printing enables low minimum orders - even if companies have limited quantities of inventory on hand and don't need huge amounts of labels, they can get the consecutive numbering they desire.
Finding new and more efficient ways to handle inventory management is one of the key decisions a company can make, no matter where it falls in the supply chain. Consecutive numbering gives visibility into each product's whereabouts, saving time and money.
Request your FREE instant quote today.