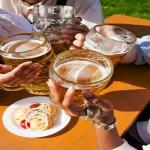 Brewers, start your engines - it's almost time for Oktoberfest, the age-old celebration best enjoyed with plenty of beer. Rather than just continuing through the fall months with no changes to your visual strategy, this could be a great time to embrace new and exciting custom craft beer labels. Whether you package your brew in bottles or cans, there's a great label out there for you.
Time to Update Your Branding
October redesigns can take a few different forms: You can commit to seasonal beer labels that specifically mention Oktoberfest or create a new look that will be seen year-round. If your brand offers a brew meant to be enjoyed in the fall, you should be sure to make sure the label communicates its limited-time nature and contains autumn imagery.
While craft beer has been associated with bottles for years, cans are making a comeback with some taste-making breweries. As they shake off a lingering association with disappointing macro-brews, cans have become an intriguing option for small brewers. No matter which container your beer comes in, labeling carries the same importance.
Individuals who have never tried your brand of beer before may be won over by an interesting label design when they're browsing store shelves this October. Creating such a look can increase your products' appeal, whether it's just for the season or a full-on rebrand.
It's Not Too Late
When you work with an all-digital printing partner such as Lightning Labels, your orders arrive in days, rather than taking weeks or even months. This means a new custom bottle label design can go from the drawing board to store shelves before Oktoberfest 2017 arrives.
Oktoberfest is a chance for a beer to reach a curious audience, and it comes only once a year. Committing to a new label design or launching a seasonal beer in great-looking packaging could enhance this season for any brewery.
Request your FREE instant quote today.