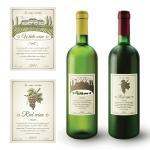 Consider Making a Statement with Label Materials
There are many ways to make a product label stand out on the shelves, and when you're competing for customers' attention, it's up to you to try all of them. Your brand's logo makes up a big part of the label's visual profile, along with the colors, fonts and imagery you employ. But what about the material of the label itself? If you're going for a classy, refined look, a smooth texture might not be the ideal choice: This is where satin cloth labels can make a big difference. The look and feel of satin cloth can help build a coherent and appealing image for your products.
The Appeal of Satin
Soft but tough - that's the promise of custom satin cloth labels. These combine an impressive and classy texture with a tough liner, so they can be machine-applied, while promising buyers that your brand is committed to quality and elegance. Made of woven satin acetate cloth, these are ideal for all sorts of food and beverage producers, especially if you bottle wine or spirits. These products, with their focus on legacy brands, improvement over time and pairing particular varieties with special occasions, lend themselves to classy labels.
Great-looking Wine and Spirits Bottles
When searching for a bottle of wine to give as a gift or pair with a meal, shoppers have ample options to choose from, even within each type of grapes and vintage. Packaging strategies provide ways to guide consumers' eyes to your brand. If you create custom wine bottle labels with satin cloth materials, your varieties instantly gain something that sets them apart from others - the elegant, refined look and feel that come with satin.
Distillers and bottlers of spirits can also take advantage of custom satin cloth labels to make their products more appealing. Strong alcoholic beverages being sold as high-end and prestige brands can set themselves apart from the pack with this label material, ensuring that there is a difference that consumers can feel as well as see.
Even when there aren't many labels needed - such as in the case of a short run of wine or liquor from a boutique winery or distiller - custom satin cloth labels are an option. Working with an all-digital printer such as Lightning Labels, it's affordable to make small orders and receive just the labels you need, with no waste. With minimums as low as 50, it's even possible to receive custom wine labels for particular events such as industry functions or large-scale weddings, with the bottles commemorating the day.
Quick Turnaround Possible
One important benefit of Lightning Labels using all-digital printing methods is that your orders can go from concept to finished product remarkably quickly. You can get in contact now to have your labels within a matter of days, rather than weeks or months. Another advantage of working with Lightning Labels is the variety on hand - if satin cloth doesn't fit the look your brand's going for, try another one of the many materials and finishes available and achieve perfect synergy between material and message.
Request your FREE instant quote today.