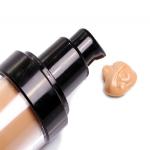 Stand Out in the Beauty Aisle
Whether you're responsible for one health and beauty product or a complete line, having a distinct and attractive look for the packaging will help your offerings catch on with customers. Items in the beauty category vie with dozens of similar products in the aisles, and since people won't be grabbing products off the shelf and trying them out, packaging is how you differentiate a particular brand. You can implement numerous visual features to make your beauty product labels excel, from your chosen imagery to your logo treatment, up to and including the material you pick.
Advantages of Gold Poly Labels
Selecting a material for your custom labels is an important step of the design process, as the color and appearance established will set the tone for the product's whole look. You can't write this decision off, and should be thinking about the effect you want to create from the earliest stages of the label ordering process. What kinds of visual cues say that an item is a top beauty choice? Glamor, timelessness and a classy, upscale appearance may be the keys to your customers' hearts, and metalized gold polyester is a material that delivers this look.
A subtle shimmering and lush gold color announce your items' presence when you choose gold poly labels. The material is backed with a strong adhesive to ensure it holds on whatever type of bottle or jar you choose for a particular product. Beauty labels made with gold polyester are finished in one of two ways, either glossy or matte. Each of these has its advantages.
Glossy labels are designed to really pop visually, with a look that demands attention immediately.
Matte labels, on the other hand, give a unique and subtle look that is perhaps less glam and more elegant.
Depending on your beauty brand's overall branding strategy, you can take your product labels in various directions to complement your identity and target long-term goals. In fact, if you're unhappy with some aspect of how your items are currently perceived, an effective re-branding can start from the labels up, reintroducing the beauty products in a whole new light. Consumers walking the aisles may be compelled to try the bold, fresh items.
Work with Lightning Labels
Bath and body products are challenging to market. You have to compete with a vast array of competitors and convince people to entrust their appearance to your items - this is a big ask. If the items have a classy, glamorous and eye-catching look, it could be considerably easier to convince new buyers to give them a try.
Lightning Labels can be an ideal partner as you work toward a new and ever more compelling round of label designs. An all-digital printer capable of working with a multitude of materials, gold polyester included, Lightning Labels is committed to service, quality and speed. Branding in the beauty industry can't be entrusted to just anyone, and Lightning Labels is eager to partner with your organization and deliver impressive results. Whether your brand needs a few labels or a huge amount, Lightning Labels has an economically smart order option for you.
Request your FREE instant quote today.