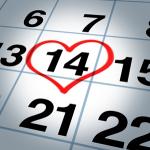 Upcoming Events are Great Promo Opportunities
Is your company ready to celebrate Valentine's Day? What about the Super Bowl? These are huge cultural events, and between the two of them, they cover a huge variety of target demographics. Custom stickers to place on your products - or just improve the look of your stores or offices - can draw the eye and get people interested in shopping with you and making purchases.
There's still time to get Super Bowl or Valentine's Day stickers and have them in time for the big days. These are even more flexible than using full-scale product labels, as you can stick them onto items as they go onto the shelves, then peel off the ones that are still there after Valentine's Day and the Super Bowl. That way, you'll get the promo benefits as the events arrive, with no leftover irrelevant merchandise after the fact.
Courting the Couples
Valentine's Day is a huge event on the calendar at businesses of all kinds. Sell items that could be great gifts for couples? You can say so with Valentine's Day stickers. This is a perfect application for stickers as opposed to labels, as the gift-giver can peel the stickers off before wrapping the present up. Little reminders that the day is coming up, in the form of stickers, can go over well with customers, who will appreciate the heads-up and potentially make a purchase on the spot. Obviously, the earlier you put stickers on products, the more likely you are to inspire such an "ah-ha" moment in shoppers.
Getting Ready for the Big Game
The Super Bowl has become synonymous with parties and get-togethers, as fans of teams that made to the big game unite with other football fans, or people who are more interested in mega-budget commercials, to watch on TV. If you sell products that would enliven these events, go ahead and print stickers. While the NFL and its teams will zealously protect their trademarks, there are plenty of ways to use neutral football imagery and text to spark interest among your shoppers, especially if the team in your area is making a deep playoff run. With such a carefully regulated event, it's worth looking up the guidelines - but there are ample ways to design fun stickers and stay compliant.
Timing is Everything
Valentine's Day and the Super Bowl are united by a fun, vibrant atmosphere. These are days to get together and celebrate, and as such they make great marketing opportunities for you. They are also events that cease to become relevant to shoppers right after they occur, with the imagery and signifiers suddenly looking dated from the moment convenience stores move their Valentine's Day candy to the markdown aisle. This means you should work quickly and deploy stickers as soon as possible.
It's not too late to get Valentine's Day stickers, Super Bowl stickers, or any other custom stickers to celebrate upcoming events in mid-to-late February. Lightning Labels prides itself on its quick and efficient processes, relying on all-digital printing to get you the stickers you need in a matter of days, not weeks or months. If you're considering letting Valentine's Day and the Super Bowl pass - but have products that could benefit from cross-promotion - it's time to reconsider and take action.
Request your FREE instant quote today.