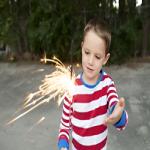 The Fourth of July is Approaching
In just a few weeks, families from across the country will be shooting off fireworks, grilling burgers, eating ice cream and participating in jovial events to commemorate the birthday of the United States. Celebrations will be held in every city, while different individuals will choose to get involved in their own unique fashions. However, some products and services will be in particular demand in the weeks leading up to the holiday.
If you manufacture, distribute or sell products that are popular around this time of year, or if you are hosting an event for your family or community, consider using July 4th stickers to inject a little fun and patriotism into the scene.
Patriotic Stickers
You do not need to stick to the script when it comes to formulating patriotic designs for your July fourth stickers, as taking a more creative and unique approach will always be a bit more effective. Whether you are trying to make your products stand out from others on the shelves or working to ensure that the attendees to your party will always remember the event, Independence Day stickers will need to be customized and personalized to achieve those goals.
Consider focusing on the themes of the Fourth of July that speak most to you and your brand, then working in designs that reflect those unique connections. The primary goal should be to honor the holiday, the veterans who defend the country, and the community around you, while also ensuring that your own thoughts and ideas are included in a seamless fashion.
Custom Fourth of July stickers might be the best option available to excel this holiday, as well as the most affordable, as they can be interchanged and used next Independence Day as well. However, with the holiday right around the corner, the time is now to get moving on these projects.
Let Lightning Labels Help
Lightning Labels offers lightning-fast turnaround times on orders, as well as custom sticker and label options that put the control in the hands of product managers, marketing teams and other clientele. Lightning Labels can ensure that your Independence Day labels and stickers are delivered on time and up to specification, allowing you to focus on your other major pursuits that surround the forthcoming national holiday.
We hope you have a great Fourth of July!
Request your FREE instant quote today.