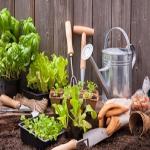 Guidelines for Labeling Home and Garden Products
If you make and/or sell your own goods, there are a lot of regulations and guidelines you have to pay attention to. Making sure you adhere to the mandatory requirements is imperative if you want to avoid fines or legal ramifications. But, many times, it is also important for ensuring consumer safety.
Today, shoppers are going increasingly conscious of the ingredients used in the products they purchase - especially if they consume the goods, like food and beverage items. However, this scenario can be slightly different for products that contain known chemicals and harsh ingredients because they are meant to - as is the case with pesticides.
In order to get their garden or lawn looking spectacular, many people need to use pesticide and other lawn products. If you are a maker of these goods, it is crucial that you are careful, strategic and aware of the information you are including when printing the product labels.
According to Broomfield Enterprise columnist and CSU Master Gardener Ann Montague, the United States Environmental Protection Agency regulates pesticides and brands must register each one before selling them - and this process includes the pesticide product labels. The information on the packaging of these items instructs consumers on how to use the formulations. And such guidance shouldn't just be treated as suggestions but, rather, legal requirements.
What to Print on Pesticide Labels
The signal words used to indicate its hazardousness or toxicity follow a scale. For example, on pesticide and insecticide product labeling, "warning" means it is marginally toxic, "danger" highly toxic - possibly even corrosive - and "caution" is used when it is moderately dangerous. If it can be severely damaging if it enters the body - either through consumption, inhalation, or exposure to skin or eyes - then it should be labeled "poison." All of these terms should be printed in large font, prominently displayed on the front of packaging.
It should be noted that, as pointed out by the EPA, this policies are for both inert and active ingredients of the product.
Obviously, considering the powerful and potentially dangerous effects of these chemicals, it is important that if you sell these home and garden products you also include steps for safety in the event that a person does come into contact with the substance in a way that is not intended. In addition, Montague added that it is critical that lawn and garden labels also include information regarding the time when a consumer should use the product for optimal results and effectiveness. For example, what temperatures are best for applying it to the plant, as well as when it should be reapplied and the conditions in which it should be.
Furthermore, makers are required to disclose what the exact pest, insect, disease or weed is that the product is used to kill or prevent. To ensure they keep not only their lawn, but home, health, environment and loved ones out of harm's way, users need to make sure they carefully follow all of the instructions labeled on the home and garden product. But in order to help them do that, sellers have a responsibility to make sure they are going above and beyond to provide consumers with the most accurate, detailed and useful information possible.
Other factors that you should take into consideration when designing custom lawn and garden labels are the quality of images, as well as the packaging materials used. Working with a quality label printing partner to make sure you are maximizing the potential of your products can help streamline operations and significantly improve your bottom line.
Request your FREE instant quote today.