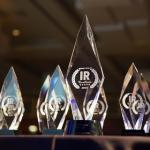 Honored to Accept, Ready to Progress
The Internet Retailer Conference & Exhibition saw some of the giants of online marketing and retail come together for the Retailer Excellence Awards, and we here at Lightning Labels were proud to be in this prestigious group. Lightning Labels was also recognized as the B2B eCommerce Marketer of the Year at the event in Chicago, Illinois, on June 8, and was honored to accept the award thanks to its immense, unique digital marketing efforts throughout the past several years.
Lightning Labels leverages a range of digital marketing platforms, channels and more to ensure it is reaching every single prospect and engaging customers through their chosen devices and online preferences. As the award is given to the manufacturer, wholesaler or distributor that had the most exceptional performances in social media network, blog and display tactics, we could not be prouder of our staff and partners for their contributions.
Making it Happen
We utilize every available option to best serve our customers and understand that this really begins with the products and services we provide. In the past year, Lightning Labels has made new products such as custom bumper stickers available, while also putting in the work to streamline the quoting and ordering processes for existing clientele. Our custom labels and stickers have been hot in many areas, including several new industries, as a result.
Lightning Labels focuses on critical matters in the B2B space such as customer service, efficient ordering and keeping prices as low as possible. Then, we take those exceptional services and products and put them front and center within our marketing tactics, ensuring a consistent experience regardless of which industry or region a company might be competing in. Thanks to the hard and innovative work of our internal team and our partners, we received this prestigious award, and intend to keep moving in the right direction.
The Lightning Labels Advantage
Product labels and stickers are always critical to the overall success of a given brand, and Lightning Labels puts the control into the hands of managers and marketers when they are drawing up their packaging strategies. Lightning Labels offers custom labels and stickers with lightning-fast turnarounds on orders. This ensures that you have everything you need to capitalize on opportunities in your market.
Request your FREE instant quote today.