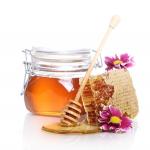 It's Harvest Time – Consider Custom Honey Jar Labels
When people go to the store or the farmer's market to get a bottle of honey, what are the chances they'll pick your brand? You've worked hard to make your product as delicious as possible, but you need to ensure the label conveys the effort you've put into this natural, wholesome sweetener. Now is the time to think about what you want your packaging to look like going forward - it's harvest time and, as such, it's a great opportunity to lock in designs for your honey labels. Labeling is the way to share the goodness of your honey with the public and inform buying choices.
Stand Out at the Farmer's Market
In the busy space of an outdoor market, people can't linger long at any one producer's booth - you have mere moments to show off your honey. This means that no matter how great the flavor, people may pass you by unless the products make a great visual impression. This is where jar stickers and labels come in, selling your product in full color. Vibrant imagery including bees and their hives, or close-ups of honeycombs, could remind shoppers that honey comes directly from the natural world to their tables, and is a fresh and wholesome addition to a well-stocked pantry.
No ordinary labels will work if your primary channel of sales is farmer's markets. Far from the climate-controlled indoor spaces of supermarkets, these gatherings are often exposed to the elements. You need stickers and labels that won't give way in heat or cold, and can withstand being packed and transported on a regular basis. If you go with weaker labels, you may find they have fallen off in tough conditions. No matter how good the imagery is, people can't react to it if they never see it.
No matter the size or shape of the bottles you use, or the materials you employ, custom labels for honey are available to help your products stand out. Whatever your current packaging strategy is, there is probably room to improve, whether that entails creating a sticker that fits the bottle better or adding more vibrant pictures that sell your brand better. Whether you make more sales in farmer's markets or more conventional grocery stores, you'll no doubt face multiple competing products. Constantly iterating and improving your labels is a way to keep winning eyes, even in highly saturated markets.
It's Not Too Late to Order
Settling for less is never necessary when it comes to custom labels. When you're harvesting and bottling honey, it's a great time to contact a vendor such as Lightning Labels about the stickers and labels that will adorn the jars. True to its name, Lightning Labels boasts quick turnaround, getting its products into your hands in time to sell the honey in a hurry. If you're a small producer, you may believe your limited annual output would make it impossible to get professionally printed labels for your products - Lightning Labels can help, however. With batch sizes as small or large as needed, any honey producer can stand out with these custom stickers and labels.
Request your FREE instant quote today.