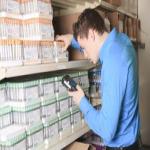 No matter the amount of inventory your business holds at any time, it pays to have an organized system for cataloging and tracking that stock. Inventory labels play a critical role in creating such a tracking system, acting as the connection between your physical items and the digital tools used to catalog the products.
Inventory labels can serve several functions at once. Sequential numbering allows employees to identify items visually, while barcodes and QR codes enable the scanning and logging of products via handheld devices, including everyday smartphones.
Types of Inventory Labels
Inventory labels serve an important role in your supply chain and logistics operations, enabling your employees to track finished goods at every step of their journey, from manufacturing to retail. With the use of these printed labels, products can be pinpointed, whether at the pallet, case or individual level.
Depending on your exact use case, you can take several approaches to inventory labeling. You also have options regarding your order. If you choose sheet labels, that indicates employees will be applying the inventory tags by hand. Roll labels can be attached by hand or machine-applied.
Your choice of adhesive also matters: Inventory labels that are meant to be removed before the items are sold to end-consumers should be removable, rather than employing a permanent adhesive.
- Sequentially numbered labels: Variably printed labels with sequential numbers can act as an easy way to track individual pallets, cases or pieces of inventory during transit and storage. While barcodes and QR codes require scanning to provide information, a numbered label is simple to verify against a printed list or a database on a mobile device, making this the lowest-maintenance inventory label option.
- Barcode labels: A barcode on inventory is a way to integrate physical products with a digital tracking system. When your employees scan these labels, they can enter information directly into a database, ensuring the business has a complete and constantly updated record of what quantity of stock is at any given location.
- QR code labels: QR codes are a type of 2D barcode with the ability to store considerably more data than the familiar 1D barcode. Inventory labels with QR codes can therefore allow your employees to track more details about each container of finished products. They can contain URLs, redirecting users to up-to-date web pages when they scan the codes.
There's no need to limit yourself to a single type of inventory tracking. A label with both a number and a barcode or QR code can combine quick visual identification with the ability to access digital information.
Asset Tagging
Asset tagging is closely related to inventory tracking, but with a key difference. Instead of keeping a record of stock as it moves between locations, these tags are designed to create a record of your most valuable pieces of equipment. Devices such as laptops are especially good subjects for asset tagging, as their monetary value may make them targets of theft, and they enable access to protected information such as records and intellectual property.
Asset tags can use the same tracking content as inventory labels, with sequential numbering and barcodes allowing the use of detailed asset management practices. When you work with a labeling provider that offers low minimum order sizes, you can engage in asset tagging even when there are comparatively few pieces of equipment to track.
Professional Label Printing
With Lightning Labels as your label printing partner, you can get your inventory management program up to speed quickly. By using all-digital printing methods, Lightning Labels can deliver short turnaround times and flexible order sizes. High-quality sequential number labels, barcode labels and QR code labels can become the cornerstones of a new or refreshed inventory labeling strategy.
Request your FREE instant quote today.