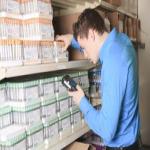 Whether your company carries a large amount of inventory across multiple warehouse facilities or only offers its products from a single hub, there's value in cataloging and tracking your stock. To create an effective inventory management system, you need a physical way to mark items or containers and track them — this is where inventory labels enter the picture.
By applying various kinds of inventory labels to your products, you're meeting several needs simultaneously. With sequentially numbered product labels, you can enable manual tracking and item counting, while 1D barcodes and 2D QR code labels allow employees to easily account for the items in digital ledgers.
Well-made inventory labels can keep products moving seamlessly through your warehouse ecosystem, reducing manual work for your team and promoting overall accuracy when it's time to check product quantity or locations.
Types of Inventory Labels
Inventory labels serve an important role in your warehouse ecosystem's overall management. These product labels and inventory tags provide the necessary data to enable inventory tracking systems, from the simplest manual method to more modern digital approaches.
Depending on your specific needs, you can choose from a few different types of inventory control labels and inventory tag options. This even extends to the way your labels are printed and stored. If you're planning to have employees apply inventory stickers by hand, sheet labels are convenient, but for machine application, you'll need roll label printing.
You'll also have to select your preferred adhesive. Temporary adhesive is useful when adding inventory labels to individual products that will eventually be sold to customers, while a permanent adhesive is necessary for labeling boxes or crates that are used for transport and storage.
One of the main determining factors is how your employees will interact with the labels. For example, if you operate a small company with one location, labels that can be identified and tracked by sight might meet your needs. However, if your business is larger and moves items between multiple warehouse facilities, QR code labels combined with a time-saving digital tracking system can better suit your needs.
Some of the main types of inventory control labels include:
Sequentially numbered label: When you work with a digital label printing company, you can purchase labels that all contain different numbers. This allows you to track individual items, cases, or pallets of inventory by their unique digits. Employees don't even need devices to track these labels — the workers can simply log the numbers.
Barcode label: Printing barcode labels is a way to add a digital component to inventory management. Employees can use handheld scanners to log information directly from a barcode label and enter it into a database automatically, thus saving time and preventing human error.
QR code label: A QR code is a more advanced 2D version of a standard 1D barcode. These codes can store more information than barcodes, namely letters as well as numbers. This means a QR code can link to a web address which can, in turn, link to constantly updated facts. Allowing employees using mobile devices to scan QR code inventory labels to learn more about the goods they're tracking.
Effective inventory tracking efforts can combine several types of inventory label features. For instance, one label can contain both a sequential number and a barcode or QR code, so the item can be identified by sight and also logged digitally, all with one inventory tag.
Asset Tagging: Labels for Your Equipment
Asset tags are closely related to inventory labels. These operate on the same principle — product labels to help track items — but they're applied to your company's property rather than products intended for consumers. Custom asset tags are especially valuable for keeping a close watch on high-value assets such as expensive technology or devices that contain sensitive information.
The same features that work on inventory stickers also apply to asset tags. You can use sequential numbering, barcodes and QR codes to enable simple tracking for your equipment. One added consideration for asset tags is label material: Since these are meant to stay on for as long as your company owns an asset, you should invest in high-endurance asset tags or tamper-evident asset tags that show when they've been prematurely peeled off.
Get Your Inventory Tags from a Label Printing Partner
When it's time to purchase inventory labels and asset tags, quality is paramount. These printed labels and stickers need to stay in place, and remain legible, to allow your employees to manage inventory more effectively. You can get great results by sourcing inventory labels from an established product label provider, offering services such as accurate barcode printing and several label size options.
Lightning Labels has spent over 20 years helping businesses of all kinds label their products, inventory and assets. Digital printing methods enable Lightning Labels to offer fast turnaround times and flexible order sizes. Whether you need just a handful of sequentially numbered labels for boxes of items or thousands of QR code labels to track the whole contents of your warehouse, Lightning Labels can become your ideal label printing partner.
Request a free quote today and see how expertly made inventory labels can help your business.