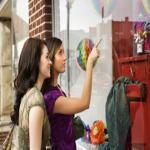 Mysterious Custom Window Stickers Placed in Empty Shop Storefronts
The sudden appearance of custom window stickers on five vacant storefronts in a Canadian community recently excited town residents. According to The Warragul Citizen, the town of Drouin found stickers placed on shop windows the morning of April 27, and no one has yet come forward to take responsibility. The stickers invite responses from people asking what they would like to see in the empty store with the phrase "I wish this was" above a blank space.
The newspaper reports this is the not the first time such stickers have been seen; an individual placed similar stickers in New Orleans storefronts to ignite resident interest in filling vacant spaces.
Blank Labels Receive Resident Responses Townspeople have shown interest in writing on the blank labels. Many of the responses include a youth center, an art gallery and "not another real estate agent," according to the newspaper. Although no one has publicly announced they are behind the mysterious stickers, Drouin citizens see the renewed interested in reviving the storefronts to be positive.
Request your FREE instant quote today.