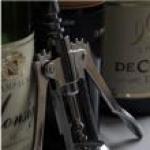 Drync App Scans Wine Bottle Labels to Facilitate Learning About, Purchasing Wine
The iOS smartphone app Drync allows users to scan wine bottle labels, billboards or magazine images to learn more about a specific wine, keep track of searches and order bottles online.
Once a user scans a label or image, the app searches its database of about 1.7 billion wines and identifies the bottle by its variety, region and price, Clickz explained. If consumers want to purchase a new bottle of whatever they're scanning, they can have the product shipped to their address via a supplier. Drync employs GPS technology to locate vendors near the user.
If the wine is not available for purchase, the app suggests a similar one.
Print Wine Label-Scanning App Makes Wine Discovery, Purchasing Easy TechCrunch, which referred to the wine label-scanning app as "Shazam for booze," recently interviewed one of Drync's founders, Brad Rosen.
"We are focused on mobile wine commerce, enabling people to buy the wines they like at the moment they try them with their iPhone," Rosen said.
The company reportedly launched the revamped app after receiving a $900,000 investment from various stakeholders.
Request your FREE instant quote today.