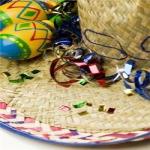 Cinco de Mayo Approaches
One of the more festive holidays of the year in the United States, Cinco de Mayo commemorates a critical battle victory for the Mexican military over that of the French all the way back in 1862 during the Franco-Mexican War. Americans have taken to celebrating Mexican culture on the fifth of May each year, all the while partaking in general revelry and colorful parties across the nation.
Whether you make craft beer, homemade treats or one of a multitude of other items, you can get creative with custom Cinco de Mayo stickers to align your products with this major event, celebrating Mexico's historic victory in the process. Because this holiday has become synonymous with delicious libations and foods, businesses operating in these arenas should certainly consider adjusting their marketing and product packaging programs to boost revenue.
Cinco de Mayo Labels
Because labels and stickers can be so easily added or removed to a product package, they are especially well-suited to these types of short-term projects. For example, if you create craft beer stickers for Cinco de Mayo, the holiday passes and all of the products have not been sold, you can simply change them out for the next major event. However, with the right designs and imagery, beer labels and stickers for other products can indeed propel sales of your products on this holiday.
First, remember that many manufacturers and other competitors in the space will likely be trying their own hands at developing and deploying a specialized marketing program for Cinco de Mayo. This means that you will need to really think outside of the box, finding ways to at once align the labels and stickers with your brand and the event itself while differentiating your company's general appeal from others'.
Simply printing a sticker that says "Happy Cinco de Mayo" and calling it a day might have a slightly positive impact on sales, but not nearly as much as highly customized and uniquely designed ones. Get your marketing team on the job, encouraging them to experiment with different themes and imagery not yet common on the shelves, while also ensuring that they include the messages desired, such as the brand's strengths and the holiday's importance.
In a Crunch
With Cinco de Mayo right on the horizon, the time is now to get moving on marketing and product packaging initiatives for the event, and some businesses will need an extremely quick turnaround on their orders to get the labels onto packages in time. Lightning Labels offers a range of custom label and sticker services to businesses of all kinds, and is an industry leader with respect to its speed of order fulfillment.
By working with Lightning Labels, you can rest assured that your labels and stickers will be printed accurately, delivered in a timely fashion and prepared to draw plenty of eyes on the shelves. Good luck with your strategy, and happy Cinco de Mayo!
Request your FREE instant quote today.