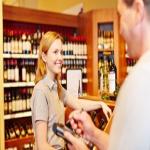 Wine bottle labels on store shelves tell stories, giving impressions of each bottle's contents with vivid imagery, elaborate text and careful choices of materials and finishes. Amid the creativity and dynamism of the winemaking space, how can you make your vintages stand out? One answer is to step up the design of your wine bottle labels and embrace new technology. This is where augmented reality wine labels come in.
Though wine is a beverage suffused with tradition and history, you can make a splash by being forward-thinking. Today, that means adding technology to your marketing efforts. Augmented reality features on your wine labels can give potential customers more information or interesting visuals when scanned using a smartphone. These fun experiences give you a chance to engage with your customers before they've even left the store, increasing the chances that they'll go home with a bottle of your wine.
When to Use High-Tech Augmented Reality Custom Wine Label Design Features
AR is one of the most intriguing features to come along in wine label design in recent years. When you want to make sure your product is distinctive and memorable, this is just the kind of high-tech custom wine bottle label option that can make people sit up and take notice. The past few years have seen several vineyards embrace the potential of AR wine labeling, with alcohol wholesaler Breakthru Beverage Group pointing out five examples of companies that have already tried the technology.
From the living historical portraits of 19 Crimes to a charming audiovisual message created by Chateau St. Jean, these brands all involve extra content accessed through smartphones to give a little more information and visual flash than could be contained on a standard wine label. If you have a story to share or want to make sure customers engage deeply with the imagery on your wine bottles, an AR label can be the perfect way to get that message across.
The appeal of animated wine labels is so great that the Living Wine Labels app, used solely to interact with AR bottles by partner vineyards, received 1.3 million downloads in its first year. Consumers have proven that they are interested enough in the extra content promised by AR-enabled wine bottles to engage with these unique labels. This shows the opportunity your brand has to enter the market.
What Goes into Eye-Catching Wine Label Design?
Of course, there are other wine label innovations you can employ instead of, or in addition to, AR content. You can select a shiny polymer to create a naturally glimmering and classy look for your wines. Alternately, a rough paper label without a glossy finish can make people feel like they are touching a piece of history. The key to compelling wine label design is matching your brand positioning to the look and feel of the labels.
Even a simple decision such as whether to use a standard shape of wine bottle label may have an impact on your product's visual appeal. If want to show off the color of your bottle or the wine inside, it's possible to select a smaller die-cut wine label. This type of label may be smaller than more regularly shaped options. If you opt for a customized wine label, you can even have the lines of the label follow the contours of your logo, helping that brand logo stand out even more vividly.
Choosing the Right Custom Label Printing Partner
The ideal label printing partner for your product will be able to deliver both sides of the equation — high technology and classic printing quality. Adding new features such as AR to your wine label design is a way to stand out amid the efforts of your fellow vineyards, but those cutting-edge tactics should be matched with labels that look and feel impressive. If your brand is based on an age-old tradition, that should come across in your high-quality labels. The same goes for a modern artistic flair or a friendly, laid-back quality.
Lightning Labels is the perfect partner to get your message across, whatever effect you're hoping to have on shoppers. Our all-digital wine label printing methods deliver fast turnaround times and flexible order sizes, alongside our wide variety of material and finish choices and commitment to quality. Not only can we provide AR wine labels that will keep customers interested, we are able to deliver custom wine labels that fit a huge array of visual styles, ensuring that your personality comes through to shoppers.
Request your FREE instant quote today.