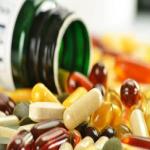 Nutraceutical products are a growth industry at the moment, with customer demand on the rise and manufacturing ramping up. If you're deeply involved in this space, it can be an exciting time — but also a challenging one. The increased interest in nutraceuticals comes with extra competition from brands large and small. Standing out in an ever-busier lineup of products will have to be a priority in 2021 and beyond.
Fortunately, there is a perfect way to increase your items' appeal on store shelves, whether they come in a bottle, box or any other container. Your use of customized labels, with modern design sense and high-quality materials, can be the differentiator your nutraceutical items need. If you work with the right printing partner and take a serious approach to every aspect of label design, it's possible to stay one step ahead of the competition in terms of your visuals for your nutraceutical product labels.
The Market for Nutraceutical Products
The need for custom nutraceutical labels is great because of just how hot the market has become. A Research and Markets report surveying the 2020-2027 world nutraceutical market predicted that sales of these functional foods, beverages and supplements will expand at an 8.3% compound annual growth rate. That impressive figure will make the sector worth $722.49 billion worldwide by 2027.
Nutraceutical product demand isn't limited to one region. Researchers found that people around the world are becoming more interested in changing their diets, and that many of them have the income to do so. A product label or sticker could convince these shoppers they've made the right choice in picking your brand, but your packaging strategy must reflect their preferences.
Customer intent is important when deciding what to type of messaging to print on custom stickers or bottle labels. Rather than pay more for pharmaceuticals down the line, nutraceutical buyers are interested in positively changing their health immediately through better habits.
Your products can play into this desire for wellness, becoming a pillar of your customers' diets. Becoming a favorite brand now, as the industry stands on the cusp of high growth potential, should be a priority. Research and Markets added that the landscape for these goods is "highly competitive," with companies rolling out new products or acquiring rivals. Your ability to market your goods with customized nutraceutical product labels may determine your effectiveness in the important years ahead.
Customized Label Design: What to Consider
What does a great custom label design for nutraceutical products look like? As with so many categories of goods, there is no perfect answer. Your design strategy from color to artwork and logo should suit the brand identity you have built, helping customers identify your items and stay loyal over time. It should also have a compelling, unified aesthetic, with every element of the label contributing to a consistent impression. Your choice of material — gloss, matte, rough paper — plays into this design process, as does the finishing technique you use on the labels.
By viewing other brands' nutraceutical custom labels, you can see just how many directions your creative process can take you. In 99 Designs' nutraceutical product label example gallery, for instance, all-black bottles with gold and silver accents sit alongside designs rich in color created to accentuate a clear bottle and the bright capsules inside.
One important point to keep in mind is that you will need plenty of space for text on your label. Including the use statements, ingredient lists and quantity information mandated by the Food and Drug Administration is a must, and will likely shape your priorities and design decisions regarding the rest of your labels' contents. It also pays to check any claims about your product's effectiveness against the FDA's guide of acceptable and approved language. It would be a major setback to see your great-looking labels pulled from shelves over noncompliance.
Custom Label Products from the Professionals
Rather than taking your label printing in-house, it pays to work with an expert custom label printing partner. This is true whether your business is a fresh start-up or a larger, more established brand seeking a new look. There are many considerations that go into making the perfect label, from the material and finish to the question of whether the labels should be hand- or machine-applied. Resolving these issues is easier when you have a team of versatile and knowledgeable experts on your side.
Lightning Labels is the ideal custom label provider for your nutraceutical business's needs. Our use of all-digital label printing means we can deliver the exact quantity of customized nutraceutical product labels you need, when you need them. We also offer a wide variety of custom shapes and label sizes through die-cutting. The style of custom label you receive is up to you. Roll labels and sheet labels are both options, depending on your chosen method of custom label application. Whatever types of packages your brand prefers, we have customized labels to fit them.
Request your FREE instant quote today.