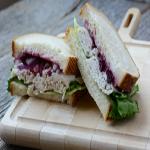 Attract Customers to Your Sandwich Lineup with Bold Stickers
The humble sandwich can go under the radar, despite surely being one of the most convenient and well-loved food categories. August is the time when this changes, and sandwiches of all types take center stage - it's National Sandwich Month. If you operate in the food manufacturing or retail sector, you can take advantage of this special event to add a new appeal to your sandwiches or ingredients. You can make a great impression and draw attention from customers by putting reminders about National Sandwich Month on custom food labels.
Influencing Shoppers with Custom Food Labels
A shake-up in packaging can exert a great influence on grocery buyers' purchase decisions. When they are walking the aisles, people are looking for interesting and delicious new foods to try, and custom food stickers can guide them in the right direction. August is the right time to put promotional muscle behind any and all sandwich-related items, whether this means pre-made sandwiches or the bread, meat, cheese and condiments that act as ingredients. If you make or sell these items, customized stickers and labels can help you stoke interest and appetites.
No matter the shape or size of container your product comes in, there are custom food labels that will work for you. Apply stickers to the wrappers of pre-made sandwiches, debut new labels on meats or cheeses, stick a unique design on ketchup or mustard - the options go on. Even produce can get in on the action, as what's a BLT without lettuce or tomato?
Individuals shopping for ingredients or sandwiches may not have their minds made up, and could be looking to try something new. This means there is ample opportunity for bold imagery and and colorful branding to win items a second look and, hopefully, a purchase. Keeping things fresh and reacting to events such as National Sandwich Month could be what it takes to get this type of attention. Competing brands that look the same as always, or aren't using much imagery in their labels and stickers at all, may pale in comparison to your strong designs and seasonal appeal.
It's Not Too Late
While August is already underway, you still have the chance to reach out to consumers and win them over. Printers such as Lightning Labels can turn around orders of custom food stickers and labels in a hurry to transform your offerings and attract a few extra eyes. In the months ahead, you can surely find new ways to stoke interest, but for now, National Sandwich Month is a golden opportunity that can launch a whole new look for your food products.
Whether you're a big brand or a small one - or just want labels for a single one-off event - Lightning Labels has the custom food labels for you. Orders can be small or large, and turnaround times are short, allowing you to seize the chance while National Sandwich Month is underway. Your customers will learn that this is a time of year to salute the humble sandwich and, in the process, develop an appetite.
Request your FREE instant quote today.