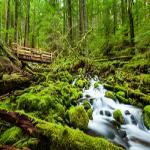 Celebrating Clean Water in August
August has been set aside to address the issue of water quality. The nation's rivers, lakes, streams and ponds are vital natural resources, and it's appropriate to have a time to celebrate keeping them clean. Your bottled water brand can, in turn, draw attention to National Clean Water Month through custom beverage labels that incorporate colorful imagery and pertinent details.
Bottled Water Promotes Conservation
August is a great time to align your product line with the noble cause of water conservation. The benefits of this decision flow both ways - with more awareness going to cleaning and protecting water sources, as well as a positive connection forming in consumers' minds, as they now associate the brand with environmental preservation. The pictures associated with National Clean Water Month - sparkling lakes and rivers - make great elements of water bottle labels, and can do much to draw eyes to your offerings on store shelves.
Whatever angle you take on water conservation, you can make the connection via your packaging. If your company is regional, you can potentially gain even more attention by finding a local water feature to tie your campaign to. Is there a river or lake that gives your part of the country its identity? If so, buyers may react strongly to messages about keeping it sparkling.
By becoming an advocate for clean water sources, you can improve the image of your bottled water brand. Summer is a key time for water sales, with individuals seeking out these products for outdoor activities. You can catch eyes with your promotional messages for National Clean Water Month, and create an association between your company and conservation that may stick with buyers long after the month and season have passed. It helps that the link is so easy to make, with custom bottle labels being readily available to transform water packaging into a space to spread a vital message.
The Time Is Now
Of course, making the connection with National Clean Water Month is a time-sensitive activity. After August, the window closes. Fortunately, there is still time to get the bottle labels you need. Lightning Labels is equipped for quick turnaround times, even for compelling labels with bright, full-color imagery. Starting a new campaign is easy and fast, meaning the opportunity remains to advocate for water sources in this month set aside for them.
This is a valid strategy, no matter the size of your company. Whether you are a small distributor or a major source, Lightning Labels offers a batch size that will help you. In fact, small orders are available, meaning that a one-off party or other event can be organized in honor of National Clean Water Month, with striking bottle labels available at just that gathering. The scale of the promotion is up to you, as well as whether there is an explicit connection to August's message or a more general tone of conservation. You are free to make the ideal choice for your particular needs.