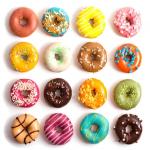 NJ Business Shut Down By FDA Over Bad Custom Food Labels
Business know they have to have correct information on custom food labels - or else. One New Jersey-based business found that out that hard way after the U.S. Food and Drug Administration (FDA) ordered a bakery to close its doors after food labels were found to be wildly inaccurate and a source for potential consumer danger.
Butterfly Bakery was forced to shut down operations after an FDA investigation into some of its products found foods labeled as "sugar-free" actually contained sugar, while others had fat content well above what was listed on labels.
The bakery entered into a consent decree with the FDA, meaning it has agreed to stop production and distribution in an effort to focus solely on bringing the business' labeling practices back into compliance.
Fat Content Grossly Understated on Food Product Labels The FDA audit into food product labels revealed a number of labeling violations, especially in regard to displaying the correct fat content. Butterfly Bakery's No Sugar Added Blueberry Muffin was found to contain 360 percent more saturated fat than what the label said. Its Sugar-Free Double Chocolate Chip Muffin had a whopping 444 percent more saturated fat.
Request your FREE instant quote today.