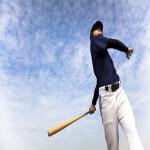 Catchers Applied Pink Small Custom Stickers to Fingernails
Major League Baseball permitted players to support breast cancer research on Mother's Day by using pink equipment and allowing catchers to put small custom stickers on their fingernails. According to the MLB, the action was part of the weeklong initiative to raise funds for the Susan G. Komen Breast Cancer Foundation to continue searching for a cure for breast cancer.
Players across the league looked to honor the women in their lives by using pink bats, cleats and other gear. Catchers even stuck reflective pink stickers onto their fingernails.
Printed Stickers Part of Mother's Day Celebration John Buck of the New York Mets was one of many catchers playing on Mother's Day who put pink printed stickers on their nails. Catchers often put reflective stickers on their fingernails to assist pitchers in decoding the catcher's calling signals, which allows for easier communication between the catcher and pitcher. The MLB reports game-used pink items will be auctioned off through the league's website, with proceeds going to charities that support breast cancer research.
Request your FREE instant quote today.