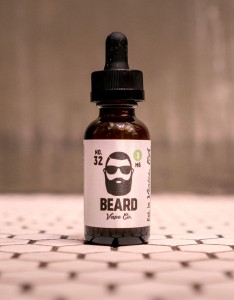 Sometimes, ideas for company branding are as clear as the nose on one's face—or, in this case, the beard on one's face. When brothers Brady and Casey Bates (in tandem with close friend Colbey Pfund) started Beard Vape Co. in the back of Nana's Vape Shop in Venice, CA during 2014, they brainstormed a name and look that would resonate. They found it with their father, whose nickname was "Beard." And, both brokers sport beards as well.
The search for their signature flavors was far more intensive. They made nearly 100 flavors over several months, assigned a number to each, and started testing on vape shop customers. After many weeks of marketplace feedback and stated customer preferences, they selected three, and have added three since. The flavors are: Cheesecake with Strawberries, Cinnamon Funnel Cake, Custard with a dash of Custard, Blue Raspberry Hibiscus, Sweet and Sour Sugar Peach, and Chocolate Mint Cookie. New flavors are in the works, subject to the same type of customer input.
Today, Beard Vape is sold on six continents and in all 50 states. Fueling popularity is the company's ability to build a strong rapport with fans, customers and prospects—reinforced by the easily-recognized beard logo, present on their vape product labelsvape product labels. Strong social media presence contributes to robust organic growth.
While healthy company popularity spawns considerable pride and joy, Creative Marketing Director Collin Duddy explains that, "Perhaps the most rewarding thing Beard Vape Co. has ever done is establish a relationship with American Armed Forces across the globe. We hear their opinions on present and prospective flavors, and act on requests for bottles for their bases."
Relationship with Lightning Labels, the Custom Vape Product Label Specialist
Duddy elaborates that, "Lightning Labels has provided Beard Vape Co. with a quality label that matches the attention to detail befitting of the brand. Using an exceptional texture unseen on other labels and a collaborative approach to creativity, Lightning Labels has been accommodating Beard Vape Co. since the beginning."
Request your FREE instant quote today.