Info overload drives less clutter, label design included
[caption id="attachment_7964" align="alignleft" width="252"]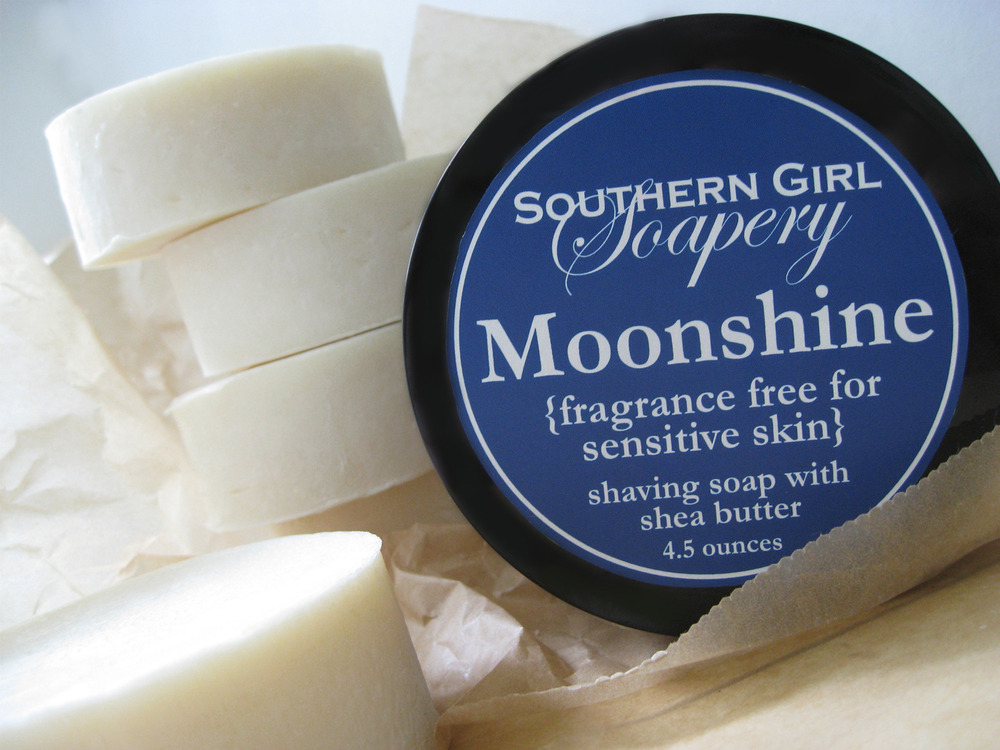 Southern Girl Soapery's packaging showcases simplicity and clarity in label design.[/caption]
Twenty years ago, the ability of graphic designers to create drop shadows and graduated screens quickly and cheaply on a computer was a brand new shiny concept—so everybody did it. In part, its commonplace use is fueling the return to simpler, less cluttered design in general, including labels.
That's the opinion of Denver area designer Debi Knight, owner of Knight Design Studio, who's spent more than three decades specializing in print graphic design.
"Apple, for one, is into much simpler packaging. The trend is toward well-designed and straightforward pieces without a lot of bells and whistles," notes Knight. "We're bombarded with so much info minute-to-minute that there are only a few seconds to catch a reader's attention. Simple design makes it easier to capture the essence of the meaning."
She adds that part of the appeal of simpler design is because it's now a new trend, in contrast to the bells-and-whistles laden graphics spanning the last two decades.
Trends in packaging: simplicity is hot
A recent Packaging Digest article featuring Lisa Pruett of PaperWorks Industries Inc. agreed that simplicity is currently a hot design trend. The article cites a Food Institute report saying that consumer packaged goods marketers introduced almost 1,900 new products in 2012—numbers not seen since the recession. As a consequence, brand competition for consumer attention dollars is fierce.
Pruett notes, "…Some brands are moving towards more minimalist look with fewer graphics and colors. This is a popular method for communicating that a product is wholesome or natural because consumers will associate the simplicity of the design with simple ingredients."
What is, or is not, front and center on the label itself is proving ever more important to consumer buying decisions. An article in smashbrand.com points out, "Consumers are quite savvy; they aren't just reading food ingredient labels, they're beginning to read cosmetic ingredients and cleaning ingredients, as well. Be forewarned."
This supports the increasing importance of function over form, at least in some situations. Increasingly, it appears that consumers—although exceedingly time-challenged—will make the effort to understand what's in a product before buying it. Case in point: When vetting nutraceutical labels, I generally go straight to the ingredients list and accompanying dosing information, then research anything that's unfamiliar or controversial. As part of this process, I also read the label for correct spelling and the like.
Unless a particular nutraceutical has been recommended by a trusted practitioner, misspellings and other label mistakes call into question the manufacturer's quality control and attention to detail overall—and predispose me to pass on their product.
On the issue of balancing form and function, Pruett weighs in, "With so many nutritional and added-value food and beverage products entering the market, packaging must be both eye-catching and adequately reflect health benefits."
Linking packaging and label elements to expanded online information and feedback also is revving up. Pruett notes, "Additionally, as consumers continue to educate themselves with online information, another trend we can count on will be the increased use of digital and social media to interact directly with the consumer, gauge real-time preferences and receive instant feedback. Brands will continue to use near field communication (NFC)—and more specifically, QR codes—to provide smart-phone carrying consumers quick access to product information and promotions."
Knight cautions that QR codes, while useful in principle, aren't always panning out in practice. She notes, "From what I've read, many companies don't plan out what the QR code goes to. They don't bother to follow through with a really excellent landing page, which needs to offer the consumer something valuable. They take up valuable real estate on a label, plus elements in the QR code are busy, which contributes to the busy-ness of the label."
Ready to simplify your custom labels?
The current "less is more" trend may have you thinking about simplifying your custom labels' look and content. When you're ready to move forward, we're here for you. To find more label design tips, visit Lightning Labels' Facebook page and stay on top of the latest packaging news and trends.  Also available on the page is a free download covering the basics for custom labels: see the icon for "6 Easy-to-follow Tips to Make a Statement with Colorful Custom Labels and Stickers".
Request your FREE instant quote today.