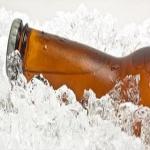 As the craft beer industry continues to boom, competition is getting fiercer - leading to brewers using distinctive craft beer can labels to stand out from the pack. Creativity sells, so beer labels are fast becoming not only a marketing tool, but an art form in themselves. According to Hewlett Packard's Garage blog, some bottles have even achieved status as collectors' items.
With the sheer variety of beer labels on store shelves, making a buying decision can be challenging. As a result, many shoppers gravitate toward the brightest, boldest, most unusual designs. The TOKY design firm, citing Nielsen studies, said most look at beer style and brand as well as the design of the carrier or box. Logos or brands, label color schemes and how modern or traditional the label is are other factors.
TOKY went a step further and categorized the most common types of beer can labels, according to the dominant graphic element - such as the brewery name, the particular beer style (IPA, pilsner, etc.), those playing up a creative beer name and those with an art-centric label. These elements appeal to the 71 percent of shoppers who like brands with "bold and interesting packaging."
The Most Attractive Labels Get Results
AJ Kierans, a label specialist cited by Garage, said "On the liquor store shelf, if you have to choose between two beers that you've never seen before, I think that the more attractive label will always get people to buy in." Kierans is founder and host of a podcast and website devoted to the art of beer labels.
The British daily newspaper The Guardian said beer cans are now a canvas for dazzling, cutting-edge design, and "independent brewers haven't just ripped up the rules on flavor - they have transformed beer packaging, too. Labels and cans are mini masterpieces."
Sourcing The Labels
With the labels on a can being so critical to success, where does one go to get the artistic expertise needed? Graphic design firms are the most common source of input, but sometimes in-house artists and freelancers play a big role. The styles of design vary tremendously, ranging from takeoffs on classic art masterpieces to sophisticated typeface treatments to comic book inspired labels such as the ones created by Kings County Brewers Collective (KCBC) in Brooklyn, NY.
Zach Kinney, one of the KCBC co-founders, said the brewery wanted its labels to be instantly recognizable, like its hellfire-and-brimstone brand Phantom Overdrive IPA, which is viewable on Instagram along with other KCBC creations.
Once the attention-getting artwork is created, of course, then you need to find an experienced label supplier to bring the ideas to life. Lightning Labels is one such partner - its high quality, all digital capabilities can bring your brand from concept to market quickly and cost effectively.
Request your FREE instant quote today.