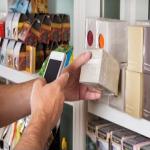 The world of packaging is always changing. Your product labeling needs to keep up with the competition, as well as with regulatory issues and other concerns. Here are five ways to check whether those new product labels you have in the works will really do the job in the marketplace:
1. Food testing - If your business offers food or beverage products, have you done the necessary lab tests to assure that all nutritional and safety information is current and up to date? Does it meet the latest state or federal regulations? If you market internationally, is the information translated correctly and is it in compliance with other nations' labeling requirements?
2. Design, layout and legibility - Does the label layout communicate what it should? Does it create any misleading impressions or inadvertently make promises that the product cannot deliver? Are the various design elements arranged in an eye-catching yet effective way so that priorities are met - for example, the logo isn't so large that product information has to be shrunk to an unreadable typeface size? Is everything legible? Do the colors work well together?  
3. Label performance - Sometimes the labels themselves don't stand up during shipping and store merchandising. You'll want to ensure that your labels adhere properly and resist abrasion even through changes in temperature and humidity. If the label is meant to peel off easily, does it - or if it's not supposed to, does it stay on? Because of small production lots, do you still apply labels manually, from sheet stock? Perhaps you could consider a less labor-intensive method, automating your process with roll labels.  
4. Legible bar codes - Are there any problems with your bar codes or QR codes not scanning properly under store conditions? A poorly performing bar code could hurt retailer relationships, customer satisfaction and ultimately sales. If you're doing bar codes in-house, you might want to consider alternatives like pre-printed custom labels from a supplier that can deliver the sharp, high-quality impressions required for trouble-free scanning.
5. Ink and paper - It's easy to take these for granted. But if you're in the food industry, safety could be a real concern. Are your inks lead-free? Do they contain heavy metals or any other toxic or harmful chemicals? Are your labels eco-friendly? Does the label paper stock resist moisture, mold and mildew or cross-contamination? And how practical are the ink and paper choices? If the inks fade, or the paper curls, your products may experience a short shelf life, potentially involving costly product returns, replacement or replenishment.
Request your FREE instant quote today.