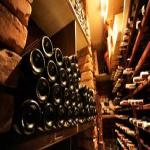 One of the key ideas behind marketing your vineyard's offerings involves creating a strong image in customers' minds. Winning over people who have never tried one of your wines before is easier when those shoppers can infer facts from the wine bottle label. A well-designed wine bottle label expresses your vineyard's unique identity and encourages purchases, just as a generic or confusing packaging strategy may turn customers away.
Creating compelling wine bottle labels isn't just about picking the right imagery and text. You should also focus on selecting a perfect material for the custom wine bottle labels, one that completes the brand's image and makes a strong, tactile impression on consumers who examine the bottles in stores.
Ideal Materials for Paper Stock Wine Bottle Labels
Wines are often associated with classy, refined dining options. To cultivate this stylish impression, you can settle on a paper stock when selecting your wine label materials, rather than choosing a polymer. Furthermore, the possibilities go beyond a straight paper vs. polypropylene dichotomy. You have many paper stocks to choose from, allowing you to cultivate the perfect branded look for your bottles. Paper stock label materials include:
Estate #9 Paper Labels: Estate #9 Labels are perfect when your chosen style invokes fine dining, candlelight and refinement. The cream-colored paper has a pleasing texture that can make your brand feel valuable.
Classic Crest Labels: For a malleable matte look, one that works with nearly any kind of contemporary branded imagery, you should choose Classic Crest Labels.
Cast Gloss Labels: Cast Gloss Labels are similar to Classic Crest Labels, in that their white finish can accept all kinds of colorful imagery - the difference is that these labels are smooth to the touch.
Satin Cloth Labels: To maximize the tactile appeal of your wine bottle labels, you can choose a Satin Cloth material. Its texture can make your wine stand out from similar offerings on store shelves.
The Convenience of Working with Lightning Labels
You can contact Lightning Labels to select any of the aforementioned materials for your next wave of wine bottle labeling.
No matter the kind of impression you're hoping to cultivate with your wine labels, the right material choice can strengthen your branding. Add in quick turnaround times and flexible order sizes, and you have an ideal wine labeling partner.
Request your FREE instant quote today.