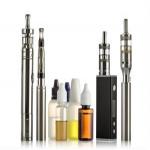 The vape juice bottle sizes you offer your e-juice products will determine how your customers buy from you. From large to small containers, however, the need for good branding remains paramount. Whether you're increasing your lineup of bottle sizes or refreshing your whole line's look, you need to find the best vape labels for 60-ml bottles and other common sizes, potentially all the way down to 10 ml.
Right-Sizing Your Vape Juice Bottle Labels
Sizing up the labels is an important part of the selection process. The best vape juice bottle labels for 10-ml bottles and other small sizes may make use of multipanel features and other specialized traits. Whatever the size mixture of your particular line, ensure you're working with a provider that can deliver a precise match for your requirements.
Printing partners that have operated in the vaping and e-cigarette space for years, such as Lightning Labels, are well-equipped to deliver the best vape labels for 15-ml, 30-ml and other common sizes of bottles. Lightning Labels carries a wide variety of dies to die-cut its clients' custom labels, fitting whichever containers that particular company prefers.
It's up to you whether your e-liquid offerings will be available in small sizes to encourage customers to try new flavors, strictly in large bottles or in an array of sizes in between. When you have the right partner producing the labels for all of these e-juice products, you can be sure that the whole line will look consistent and professional, with vape bottle labels that are appropriate for the assorted sizes of containers they're covering.
Perfecting Your Vape Branding
Size, material and finish are three traits that go together when it comes to e-liquid branding. Acquiring the best vape labels for 60-ml bottles, or any size, isn't just about selecting the right-sized die for the job. You can and should also figure out whether your brand's imagery looks best on a clear polymer, a chrome-finished version or a white option suitable for printing in any color. Finishing options include standard glossy textures or mattes, which may give your vape product labels a more artisanal style.
By selecting Lightning Labels as your partner for vape juice bottle labels, you gain access to over a decade of experience in the industry. You can be sure that every size in your product line has a label that fits it perfectly, no matter how large or small it is. You can also match ideal materials and finishes, then decide whether features such as extended content are right for your purposes. This will ensure your vape products always look their best.
Request your FREE instant quote today.