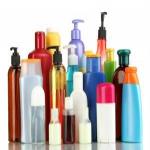 When you're promoting a line of cosmetics or lotion products, you have to contend with unique challenges and fierce competition. Your items will be sold alongside many other brands' similar offerings, and your chosen cosmetic packaging labels may be the factor that helps shoppers make a decision.
The importance of vibrant and distinctive branding goes hand-in-hand with other needs. For instance, lotion bottle labels should stay intact and legible when people squeeze the bottles. Because customers will likely store your items in their bathrooms, custom cosmetic labels must also be able to stand up to moisture.
Add all of these varied requirements to the simple facts that your budget is limited and time is precious, and labeling suddenly becomes an intimidating process. You don't have to panic, however. There are labels out there that can deliver real value for beauty brands. When you work with Lightning Labels, for instance, you gain access to best practices for cosmetic label packaging such as the following:
Make Your Brand Look Classy and Professional
Labels for cosmetic packaging should suit your brand's style. If your products convey a high-class look, stylish buyers will be more likely to add the items to their shopping carts. When a person has never tried your company's items before, packaging is a primary indication of what's inside.
If the labels on your skin creams, makeup, and other items look cheap or poorly designed, potential buyers may get the wrong idea about the packages' contents and leave them on the shelf. Every part of your cosmetic product labels, from material and finish to your logo and typeface, should go together to create a compelling whole.
Ensure Packaging Stands Up to Tough Conditions
Custom lotion labels shouldn't just be visually stimulating; they should also be rugged. Waterproof materials and finishes will ensure that your bath and body products look great even after months stored in customers' bathrooms. Resilient labels that don't warp or fade when exposed to water - or the bottles' contents - can encourage buyers to go out and buy more of those lotions, creams and other cosmetics.
The exact kind of toughness your labels require will depend on the shape and size of containers you use. Squeeze bottles and tubes call for labels that don't crinkle or wear out when stretched. Just about every kind of cosmetic label should be water-resistant and not smudge when exposed to liquids.
Don't Waste Time or Money
Bath and body labels don't have to be expensive or slow to produce. Work with a digital label printing partner such as Lightning Labels, and you can take advantage of value-adding benefits such as fast turnaround times and low minimum order sizes. With long years of experience helping firms across sectors add appeal to their products, Lightning Labels can be the ideal partner for your business.
Whether you're just launching an independent company or you've been in the cosmetic industry for decades, there's no wrong time to revolutionize your labeling strategy. Combining a compelling appearance on store shelves with toughness and value is a winning proposition for your business.
Request your FREE instant quote today.