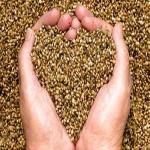 When the U.S. Department of Agriculture issued its first organic hemp flower certification to the cannabidiol brand Palmetto Harmony April 30, it opened the door for numerous other CBD manufacturers to seek similar regulatory approval.
In the constantly evolving CBD market, this signals a potential sea change in government views on cannabis products. According to a report by New Frontier Data, Palmetto Harmony's designation was facilitated by the Agriculture Improvement Act of 2018, also known as the 2018 Farm Bill, which made hemp and hemp-formulated products such as CBD oils legal. When that legislation was enacted, hemp was officially removed from the list of controlled substances.
Earning the USDA Compliance Label
This certification also represents another landmark; having a product recognized as organic by the USDA is one of the most challenging feats imaginable in the agriculture industry. When a CBD product achieves this status - acknowledging that the hemp was raised in soil free of pesticides and synthetic chemicals - and that the grower has met all USDA requirements regarding tools, containers and labels, that is big news. It's a major step forward not only for the CBD maker but also its customers, who know they can trust the brand for its quality because of the USDA logo label.
Marketing Your Products With Organic Hemp Labels
Obtaining USDA certification will certainly carry great weight in the marketplace. When your brand has a unique selling proposition like that, promoting it everywhere you can through packaging, labeling and advertising can pay big dividends in store sales. It helps to have a plan in place for announcing the certification and drawing shoppers' attention to it on retailers' shelves.
That's where custom hemp labels comes in. Is your company ready to immediately introduce dramatic new packaging that highlights the USDA organic seal? This is particularly important when a product is at the beginning of its life cycle, at the very time it is critical to establish your reputation as a pioneer in the field. As other similar competitive products come on line, that advantage will gradually disappear because others will soon be able to claim USDA approval as well.
Your custom hemp labels should be as creative and distinctive as possible, employing a variety of graphic design techniques to highlight the USDA name and logo. Hemp flower labels, for example, can artistically depict the product's natural origins, assuring consumers of its purity.
To obtain your new digitally printed USDA hemp labels, consult a supplier like Lightning Labels, which has experience with the kind of hemp product label printing that delivers results in a competitive environment.
Request your FREE instant quote today.