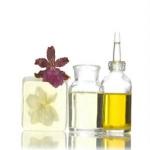 When it's time to introduce a new essential oil into your product line or to redesign your company's packaging, you should give some thought to the kind of personality you want your oils to convey on store shelves. When you work with an experienced labeling partner, there is a great deal of flexibility in the appearance and presentation of essential oils, and you can use your labels to differentiate your brand from competitors' offerings.
Essential Oil Labels: Possibilities and Potential
If you distribute your products in standardized 10ml roller bottles, for easy application to customers' skin, you need essential oil roller bottle labels that are the perfect size, shape and toughness for the job. With years of experience working with makers of essential oils, aromatherapies and other nutraceuticals, Lightning Labels can meet these requirements. Many of Lightning Labels' label materials are designed to stand up to moisture, an essential consideration when packaging your nutraceuticals.
Once you're certain you've found custom labels that are the right size and material for your products, it's time to think about style. You can go in many directions when designing a graphic look for your products. You may find that soft greens and blues are the best palette for your brand, or you can opt for a stark black-and-white look that evokes a high-class spa experience. If you want to show off the liquid within a clear roller bottle, you can select a transparent material, getting the label out of the way and letting the oil sell itself.
Ideal bottle labels will use a combination of colors, font and imagery to tell the story of your brand, delivering an impressive appearance that will convey to curious shoppers what kind of experience they can expect. If it's been a while since you've created a new label design, it may be a good time to refresh the look of your whole nutraceutical line. Similar labels for all products will help customers stick with your brand for all their essential oil and aromatherapy needs.
Label Partners That Help You Succeed
When you work with Lightning Labels for your next essential oil packaging project, you don't just gain the benefits of years spent working with nutraceutical providers. Lightning Labels prints all of its labels digitally, meaning you won't have to wait long for your order and can make small orders at reasonable prices, ensuring you don't have to deal with large stockpiles of surplus labels. Whether you're new to the essential oil space or an experienced provider in the midst of a visual refresh, Lightning Labels can help.
Request your FREE instant quote today.