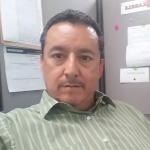 Lightning Labels Sales Service Representative Martin Zamora is dedicated both to the orange and green. The "orange" is his beloved Denver Broncos. He has memories going back the famed Orange Crush defenses of the seventies.
"I watched them on TV when I was 11 years old. I'll be going to training camp. And I think we'll be sneaky good, getting into the playoffs. Vic Fangio is bringing a good dynamic to the team. Elway works better with older, quasi-dad type people to help keep him grounded," he notes.
Speaking of quasi-dads, Martin is anything but. He has five boys ranging in age from 18 to 33. When he's not spending time with them, he and his girlfriend enjoy cooking a variety of dishes. "We do a lot of green chile, using both New Mexico and Pueblo Hatch chiles." He also finds time to help take care of his mom.
And he has a green thumb. Martin notes, "I live in Henderson about an hour drive from the Lightning Labels plant, and was born in Rawlins, Wyoming. I consider myself a small-town kind of guy. That upbringing influenced his interest in landscaping and growing a variety of vegetables, including tomatoes, jalapenos, squash, cucumbers, carrots, cilantro, and onion in a 25' x 25' garden. "I also have lots of rose bushes, and my grass is really green. But my tomatoes are taking a beating because I can't get home in time to cover them when the strong storms hit."
Other pastimes include traveling by train. And he looks forward to "scaling down" train travel by acquiring a couple of model train sets.
Supported by a strong faith that helps keeps him positive and dedicated to giving and serving, Martin spends his remaining spare time hiking, engaged in athletics, and walking three to six miles a day.
His work life also is full and varied. "My main job is to schedule approved orders, making sure I work with the production manager. We offer a 48-72 hour turnaround after proof approval, so I've got to meet tight deadlines," he notes. He's also instrumental in handling shipping notices and billing to customers. Addressing prepress layouts, assisting with accounts payable, and credit card reconciliation round out his responsibilities.
While it's a busy juggling act, Martin takes it in stride. Prior to joining Lightning Labels in 2013, he had heard about the company's excellent customer service policies. "There is a lot of emphasis on customer support, right down to follow-up calls after an order ships to check out how we did. And, as always, our name really does represent who we are—a company that prints labels lightning fast, often in 24-48 hours."
That philosophy carries over to employee treatment, as well. "Julie is a great manager to work with. There is a great open-door policy here," he adds.
His grandfather and father have been the foundation of Martin's life. He says, "They were very instrumental in bringing me up as a man, working hard, and doing what you're supposed to do. Your handshake is your word."
Request your FREE instant quote today.