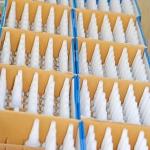 In the past few years, cannabidiol (CBD) has become one of the most in-demand ingredients for products such as supplements and foods. While interest in CBD has been steadily increasing, the regulatory picture around related items remains unclear. The recent Farm Bill opened the door to increased production of hemp derivatives including CBD, but the Food and Drug Administration has yet to issue exact rulings around the way these products should be packaged and labeled.
If your company is invested in white-labeling CBD products and selling them under your own branding, you have to be aware of the ever-changing legal status of these goods, ready to oblige any new requirements from the FDA and in line with the latest general guidelines. The choices you make regarding warning labels for CBD products could determine whether your brand is successful.
Understand the State of CBD Labeling Practices
The next few years will doubtless see new rules and regulations emerge regarding CBD product labels. The FDA has announced that it is working on more comprehensive CBD policies. The agency has noted that there are currently items on the market making unproven medical claims. Due to the stated danger of these products, manufacturers putting such information on their packaging appear to be at the greatest risk of punitive action by the FDA.
Due to the fact that the government agency has only give approval to one single CBD-based drug, there is generally no such thing as a verified health claim on a CBD label. When designing a labeling strategy for your white-label CBD oil brand, you should therefore be clear about what the item is - and refrain from making any promises about its impact on user health.
Be Ready to Change Your Approach
When more concrete guidance comes from the FDA, your brand should be ready to debut new labels in response. This means when you're choosing a printing partner for your CBD oil labels, flexibility and responsiveness are valuable traits. Lightning Labels employs all-digital production methods to enable quick turnaround times and flexible order sizes. When you don't have to make large orders of labels, you reduce your risk of being left with unusable stock in the wake of a new law.
Offering CBD products to your customers under your own retail branding is a potential path to win loyal new customers in the early days of this exciting new market. It becomes easier to keep this success going when your labeling strategy is flexible enough to cope with whatever status quo comes next.
Request your FREE instant quote today.