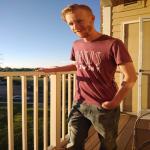 Lightning Labels' Head of Shipping and Receiving Dan Stevenson is always aiming for the summit, whether it's climbing 14ers or getting on top of a mountain of responsibilities in the warehouse, shipping and receiving arenas.
"When I started a year ago, 70 jobs to be shipped was a lot. My average now is 130," says Dan. "I make sure everyone is doing the right jobs to ship out, including slitting, rewinding, die-cutting and printing."
With the rapid evolution of his department, Dan says he's no longer the "shipping clerk." Instead, he's responsible for a growing staff and making sure that quality control is maintained by paying attention to detail, staying on the move and handling a diverse variety of tasks. There's nothing routine about his routine.
Medical experience prepared him for daily "triage"
Dan previously spent two years as a Level 1 trauma medical officer at Swedish Hospital. As a Level 1 center, Swedish can provide total care for every aspect of an injury, ranging from prevention to rehabilitation. He points out, "For two years I took care of drunk, suicidal, psychotic and drug-addicted patients as well as the safekeeping of human remains and bodies. Working this job prior trained me to be very precise and attentive to everything I do."
That precision and attentiveness is coming in handy as the company expands capabilities as well as the physical plant. For Dan, that means working closely with IT on a complete system upgrade, computerizing all freight orders and expanding the shipping department in alignment with newly-expanded quarters. "Big changes are coming next year," he points out.
His "badges of honor" are the labels printed at Lightning Labels. "I keep a collection of the cool ones stuck to my desk," Dan notes.
From mountains of work to high points of recreation
Mountain climbing is truly Dan's leisure-time focus. "My dad took me to the summit of my first 14,000-foot peak at the age of five. I love mountain climbing and living in Colorado is huge for that. I was born in Tucson, Arizona in the Sonoran Desert and I grew up in the mountains and forests of Colorado. I love being in the mountains climbing, hiking, camping and mountain biking."
Dan adds, "I try to see my parents as often as possible. My dad comes to Colorado every year so we can climb together."
Request your FREE instant quote today.