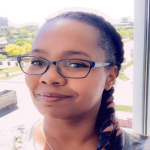 Grandchildren and grand adventures to historical sites are two primary loves of Penney Pate, Lightning Labels Account Manager.
"I have two grandchildren who are almost two years old. They're my heartbeat," notes Penney, who has been with Lightning Labels for more than a decade.
She adds, "My husband and I enjoy travel. We love going to see historical sites and traveling to warmer climates. We last went to the Martin Luther King memorial site in Georgia, and we're on the waitlist to visit the African-American Museum in Washington, D.C."
Now, she gets to combine time with her grandchildren and travel. "We've just done our first out-of-town trip with the grandkids to the Royal Gorge and Cheyenne Mountain Zoo, just before their birthdays in July and August," Penney says.
When not spending time with the grandchildren or traveling, Penney says reading and movies are high on the list of favorite pastimes. "We love to read. My husband and I are huge movie fans," notes Penney. Their favorites include the recently-concluded Game of Thrones. "I was a little disappointed that Arya didn't get to kill Cersei. And I wanted Jon and Dany to do more."
In the 10 ½ years since she joined Lightning Labels as a receptionist, and later became a dedicated Account Manager, Penney has seen a ton of changes in how the business is done. She spotlights the ability for customers to order, auto-reorder, get proofs, track and approve easily online as a major enhancement. "It also allows me to do a daily review of accounts and make sure everything is on track—a major part of customer service," Penney says.
"Another key part of my job, which involves many customers in cannabis and vape labels, is to familiarize myself with industry standards, which change all the time. Then, I can make sure that customers are adhering to new rules and regulations. It requires more daily diligence to keep up with everything."
She adds that vape businesses are needing to address new specs that came out in April. They address such areas as disclosure about different strengths, flavors and volume of ingredients on their labels.
Another evolving area is the number of customers doing variable data labels and image printing. In some cases, such as vape, individual serial numbers are required for tracking. She makes sure to fully familiarize customers with the flexibility and affordability of variable labeling. "As times progress, you've got to progress right along with them," she notes.
Penney adds that it's often the "little things" that drive customer service success, pointing out, "When I have to deal with a customer issue, I try to put myself in their place and do what I would want done as the customer, to make me happy. That leads to complete customer satisfaction, which is my number one goal."
Request your FREE instant quote today.