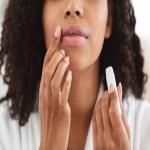 The tubes that contain lip balm are unique packages in shape and size. Creating
custom lip balm labels
means working within these specific confines, including all necessary information while also adding appealing visual elements to attract customer attention.
While the exact right approach for chapstick tube labels will depend on your brand's chosen imagery and style preferences, there are a few best practices that can guide you to an ideal result:
Get More Space with Extended Content Labels
Due to the diminutive size of each tube, chapstick labels leave you very little space to work with for design elements. Once you're done listing ingredients, will you have any room to include visually appealing brand elements? You can overcome this problem by embracing extended content labels.
When lip balm products have labels that can fold out and reveal more information, you don't have to resort to tiny font sizes or skimp on imagery. You can deliver full ingredient lists, use directions and any applicable warnings alongside large, vibrant logos and pictures.
Reassure Customers with Safety Seals
To comply with safety regulations and prove new tubes of lip balm haven't been opened, you can purchase custom labels that extend across the body and cap. Either a full safety seal, completely covering the cap, or just a partial safety seal is a valuable feature for lip balm labels. Including such an element shows that your brand is meticulous about customer safety and the quality of its product packaging.
Vary Your Messaging Seasonally
Demand for chapstick waxes and wanes with the seasons. You can vary your labeling strategy with the seasons, emphasizing different types of weather your products may protect against. Highlighting sun resistance in the summer and prominently mentioning cold and wind in the winter will remind shoppers why they need lip balm, and shifting your products' visual identity is a good way to keep people interested.
Furthermore, if you strike up a partnership with another brand or set up a limited-time offer, a seasonal label is the right place to discuss it.
Work with an Expert Partner
Labeling becomes easier when you collaborate with an experienced third party. Lightning Labels has already helped many companies create great-looking lip balm labels, which means it can do the same for you. All-digital printing methods ensure that it's economical to change label designs seasonally, and custom chapstick label sizes enable you to create packaging with extended content panels and safety seals.
Lip balm labels are unique, but with the right ally in your corner, they don't have to be difficult to produce.
Request your FREE instant quote today.