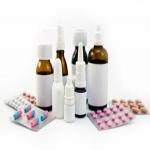 If your products come in a specific type of container - such as the Boston round bottle, with a dropper in its cap - your main packaging focus may be on the bottles rather than their labels. While finding suitable shapes and sizes of containers is a natural first step in the package creation process, you should then ensure your custom bottle labels are up to high standards. If it's been too long since you refreshed your line's branding, now could be the right moment for an update.
Custom Labels Improve Dropper Bottles
What makes Boston round bottles distinctive? In addition to having a unique cap with an attached dropper, these containers are typically small, which means space is at a premium when you're designing bottle labels. You can give yourself more room to work with by choosing extended content labels for your dropper bottles. Customers can unfold the labels and read additional information, such as ingredients lists or suggested use directions. Meanwhile, you'll have plenty of space for brand logos and text on the outside of the label.
In addition to their small size, Boston round bottles are defined by the fact that they contain liquids. Considering that consumers are going to be distributing the contents of the containers using droppers, it's a wise choice to work with labeling materials that can stand exposure to moisture. If you commit to water-resistant labeling materials, even a spill won't wipe away the information on the packaging, keeping safety directions and brand logos clearly visible.
Lightning Labels Offers the Labels You Need
When it's time to update your dropper bottle labels, you can improve your chances of success by working with an experienced partner such as Lightning Labels. Equipped with years of experience of creating custom labels in close collaboration with customers, Lightning Labels offers numerous die sizes to ensure your products' labels are the right size for their bottles, creating a professional appearance and using every square inch of available space.
When you work with Lightning Labels, you get to choose from a wide selection of materials and finishes, allowing you to select a combination that will resist liquids and keep your bottles looking great, no matter how long customers use them. You're also free to select extended content labels if you need to add more information than can comfortably fit on a bottle's surface area. No matter the exact combination of material, finish, content and extra features you're seeking, you can achieve that mix with Lightning Labels.
Request your FREE instant quote today.