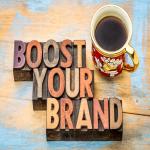 You need to brand your Etsy business if you want to boost your business both on and offline. Whether it's a side hustle or your full-time job, a branded craft business will build trust for your customers.
It's very easy to brand an Etsy business - and it doesn't cost much, either. Your online branding can be extended to physical products so that your company is recognized in real life as well as in the digital sphere.
Here are just a few ways you can bring your Etsy shop to life with the simple addition of stickers and labels.
1. Print Custom Labels for Your Products
Do you make unique items that need a label? For example, if you're a candle maker, you could label your candle jars with a custom sticker.
Custom labels are an affordable way to improve brand consistency and increase the potential for advertising.
Think about it: if someone puts your candle on their mantelpiece, all of their friends will see it. Make sure they can easily identify it so they can buy their own!
2. Use Stickers to Seal Your Packaging
A sweet way to add a finishing touch to your packaging is to seal your parcels with branded custom stickers. A small round sticker would do the trick, but you can go as large as you need.
You could even create branded address label stickers to really set your brand apart from the rest. These are great for additional visual marketing too, as everyone that handles the package on its way to your customer will see your business advertised.
3. Spruce Up Seasonal Packaging
You can brand Etsy business labels to stick all over your packaging during particular shopping seasons. For example, you could add some branded Christmas stickers to your parcels in December. You might want to add some fun spooky stickers during Halloween.
It's a simple trick, but it adds some personality to your brand, and that'll encourage your customers to connect with you and build their trust for repeat visits to your Etsy shop.
4. Use Thank You Stickers for a Personal Touch
Customers want to feel like they have connected with a business on a personal level. That's why handwritten notes are a pleasant surprise that everyone loves!  Send us artwork that says "Thanks", possibly with your signature and we can print customized thank you stickers for you to apply that personal touch.  This encourages repeat business.
How to Brand Etsy Business Labels
When you create your label, keep your brand clear. That means you need to include only the minimum amount of information that people need to know.
You can easily brand Etsy business labels with the use of your logo, company name, and your Etsy shop URL. If there's room for more, such as an email address, add it in - but don't clutter the space.
White space makes a label more pleasant to the eye, so ensure your logo and text have plenty of room - whatever the size of the sticker.
When you have your Etsy label design ready, it's easy to order your stickers online for fast delivery. You'll be branding your products within days!
Request your FREE instant quote today.